A.M. Links: Clinton Email Scandal Grows, Harrison Ford Hospitalized, ISIS Bulldozes Ancient Assyrian City in Iraq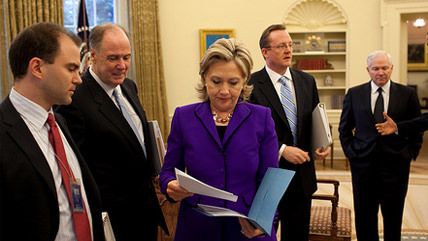 Credit: White House / Flickr.com

Actor Harrison Ford has been hospitalized after a vintage plane he was flying crashed in Venice, California.
A Delta airlines plane skidded off the runway yesterday while landing at New York City's LaGuardia airport due to snowy conditions.
"A growing controversy over Democrat Hillary Clinton's use of personal email for work while she was U.S. secretary of state could drag on for months, threatening to cloud the expected launch of her 2016 presidential campaign."
Alexei Navalny, a prominent critic of Russian leader Vladimir Putin, has been released from a Moscow prison after serving 15 days for distributing leaflets advertising an upcoming protest rally.
Liberia has released its last Ebola patient from the hospital. No new cases of the disease are currently being documented in that country.
Follow us on Facebook and Twitter, and don't forget to sign up for Reason's daily updates for more content.