Pharrell Williams Testifies in 'Blurred Lines' Copyright Infringement Lawsuit
The recording artist says capturing the feel of a song, or an era, isn't the same as infringing on a copyright.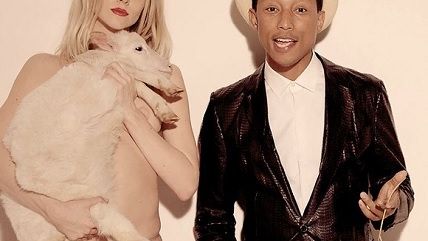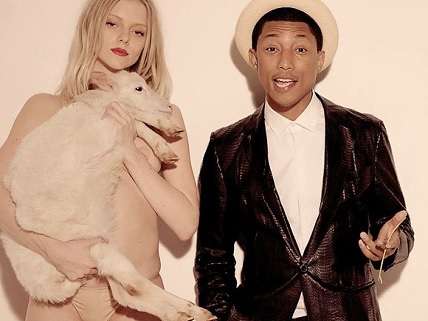 How far does a copyright on a song go? When Marvin Gaye's family suggested the Pharrell Williams/Robin Thicke song "Blurred Lines" was ripped off the "sound" and "feel" of Marvin Gaye's "Got to Give It Up," the two filed a pre-emptive lawsuit against the family. Robin Thicke's comments to the press that "Got to Give It Up" was an inspiration for the song didn't help, but eventually Thicke testified he was too inebriated at the time of making the song to remember much.
On the witness stand this week, Pharrell Williams explained the process of creating "Blurred Lines" over the course of one night at a recording studio, cutting Thicke out of most of it—he showed up when the music and lyrics had already been mostly written, Williams testified.
The 41-year-old Williams testified that Marvin Gaye and 70s soul were part of the musical milieu in which he grew up but that he'd never seek out to "take something of someone else's when you love him." The AP reports:
Williams said after the song was released, he saw similarities between "Blurred Lines" and Gaye's work but said that wasn't a conscious part of his creative process.

Richard S. Busch, who represents the Gaye family, asked Williams whether he felt "Blurred Lines" captured the feel of the era in which Gaye recorded.

"Feel," Williams responded. "Not infringed."
Much of the compositional elements that appear similar between the two songs—cow bells, the falsetto, keyboards—were not in the sheet music submitted to the copyright office for "Got to Give It Up." In their lawsuit, Williams and Thicke claim that the Gaye family was "claiming ownership of an entire genre, as opposed to a specific work."
"Blurred Lines" earned a profit of more than $16 million, on which the Gaye family claims it is owed performance fees, mechanical royalties, and 50 percent of publishing profit. In court, Williams and Thicke's attorneys argue the success of "Blurred Lines" wasn't just about the song. Via Buzzfeed News:
Experts for Williams and Thicke disputed that the massive success of the song had much to do with its composition. Universal Music Group spent about $3 million marketing the song, and its video went viral.

"That copyright alone doesn't generate revenue or profit," said Doug Bania, an intellectual property expert.

"Are you truly telling us music doesn't sell a song?" Gaye family attorney Richard Busch asked. "Does Mr. Williams agree with you?"
Earlier this year, representatives for Tom Petty approached Sam Smith over similarities they said they heard between a Petty song and Smith's single "Stay With Me," which eventually won a Grammy. In that case Smith said he'd never heard the Petty song, "Won't Back Down," and agreed to pay royalties and share songwriting credits. Petty and the other "Won't Back Down songwriter, however, were not recognized by the Grammys.