FBI Raids Alleged "Birthing Centers" For Rich Chinese Tourists
Twenty sites across Southern California were raided, with operators arrested on charges of fraud. The women were taken to hospitals.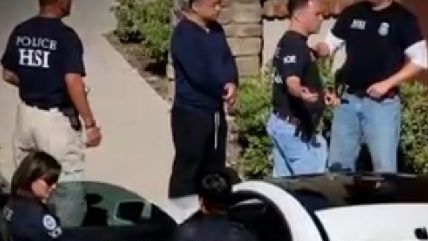 The FBI yesterday raided twenty "maternity hotels" across Southern California, where the FBI alleged Chinese tourists were giving birth to their children in an effort to secure them U.S. citizenships.
LAist reports:
While birth tourism isn't illegal, the operators of the alleged schemes are in hot water and could face criminal charges. They're being accused of taking part in visa fraud and conspiracy by coaching women on how to obtain tourist visas, falsifying records and giving them pointers on how to talk to immigration officers at LAX, according to search warrant affidavits unsealed today.

Birth tourism operators charge foreign nationals tens of thousands of dollars to help them give birth in the U.S., according to the affidavits. Pregnant women reportedly paid $40,000 to $80,000 to stay at one of the birthing centers, a fancy, resort-like apartment complex in Irvine called the Carlyle, which comes along with amenities like a pool and cabanas. The women are pampered at these fancy digs with handlers acting as their chauffeurs, taking them around to restaurants and stores.

When they go into labor, they're sent to local hospitals, where they pay discounted rates: instead of $25,000, some of these women are only forking over $4,000 to nothing through claiming that they're uninsured, low-income patients, the affidavits said. Hospitals are apparently losing lots of money over these births.
The fraud against hospitals is the most concerning part of this story, and illustrates the danger of forming policies on how hospitals treat patients based on lowest common-denominator stereotypes. The women, if the FBI's allegations are true, engaged in a massive theft of services from California hospitals. The mothers and expectant mothers were not charged in the FBI affidavit, only the facilitators that aided women in the fraud.
U.S. citizenship is conferred onto children born in the United States irrespective of their parents'immigration status. The law makes no distinction between children born to parents with visas, green cards, or here illegally. In that way, birthright citizenship is a relic of a nation of immigrants that had few immigration laws when it was being built. It stands in stark contrast to the confusing and complicated rules governing legal entry and residence in the country. The latter ought to be realigned to the former, which would make immigration into the country simpler and the kind of fraud the FBI is alleging in Southern California less profitable.
As for why Chinese parents want their children to have U.S. citizenship (which also opens the door to them being able to move to the U.S. in the future), one mother explained: "If things were good in China, why would we need to come here?"