Clinton's Private Email Account Violated Government Rules, Netanyahu Tells Congress That Iran is a Threat, Snowden Considers Returning Home: P.M. Links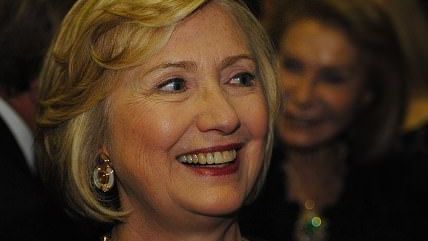 Chatham House

The slow rollout of the Hillary Clinton presidential campaign works like a wonderful sort of politicial velcro for a trickle of unsavory stories about her conduct. Such as her evasion of storage requirements for official communications as secretary of state by using a private email account.

Israel's Prime Minister Benjamin Netanyahu told the U.S. Congress that his country's survival is threatened by Iran.
Surveillance state whistleblower Edward Snowden is in talks with U.S. officials about returning home.
The father of Mohammed Emwazi, better known as "Jihadi John," is less than thrilled about his son's murderous doings.
Former CIA Director David Patraeus, better known as Paula Broadwell's boyfriend, will plead guilty to a misdemeanor charge for mishandling classified information.
If the Russian government thought the heat would be turned down by the death of prominent critic Boris Nemtsov, it was mistaken. Opposition leaders openly blame the Kremlin for the assassination.
Federal and local agents raided California apartment complexes that catered to foreign moms who wanted their babies born in the United States. Now, that's an interesting business plan.
Follow Reason on Twitter, and like us on Facebook. You can also get the top stories mailed to you—sign up here.