Is Netanyahu's Plan to Torpedo Iran Talks Backfiring?
Israeli prime minister to make the case against them to a divided Congress tomorrow.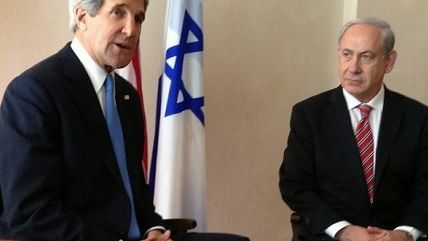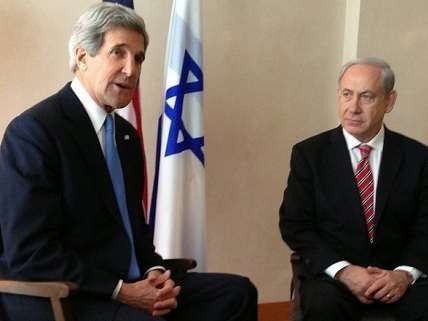 Israeli prime minister Benjamin Netanyahu will be addressing a joint session of Congress tomorrow morning. He's expected to explain why he believes the deal the U.S., U.K., France, Germany, Russia, and China are negotiating with Iran over its nuclear program will "threaten the survival" of the nuclear-armed Israel. Netanyahu, and Washington skeptics, Republicans and Democrats, of a potential Iran deal support more sanctions against Iran.
In remarks he made today in Geneva, Secretary of State John Kerry said he was concerned about "reports" that details about the negotiations would be leaked this week, widely understood as a reference to Netanyahu's trip to the U.S., while Iran's foreign minister said all sanctions had to be lifted for an agreement to work.
Netanyahu spoke this morning to a policy conference held by the American Israel Public Affairs Committee (AIPAC), a pro-Israel lobby group that enjoys bipartisan support, insisting his address to Congress was not meant to disrespect President Obama and that U.S.-Israeli relations were "stronger than ever." In her speech to the AIPAC conference, the U.S. ambassador to the United Nations, Samantha Power, agreed, saying there would "never be a sunset to America's commitment to Israel's security."
Vox.com suggests Netanyahu's maneuver could turn partisan the "rare bipartisan bright spot" that is support for the state of Israel, suggesting Netanyahu was "playing with fire" by "hoping that forcing Democrats to choose between Obama and Israel will make them pick Israel."
As Anthony Fisher wrote last week, Netanyahu is also banking on President Obama's deep unpopularity in Israel to get a boost in elections scheduled for March 17. The opposition party says Netanyahu's using Iran as a distraction from the housing crisis, rapidly rising housing prices 40 percent of Israelis blame the prime minister for. In December, 60 percent of Israelis in a Jerusalem Post said they wanted Netanyahu, who has served two non-consecutive terms as prime minister, to be replaced.
Many Democrats in Congress may be boycotting Netanyahu's address, but it's unlikely to present a wider shift on the question of sanctions. Netanyahu has campaigned against a deal with Iran (and, when it was politically expedient, President Obama) for years but Democrats like Sen. Robert Menendez (D-N.J.), who was the chair of the foreign relations committee until Republicans took control of the Senate, are at the forefront of pushing for a harder stance against Iran and bringing other Democrats in. Support for the talks, meanwhile, has created bipartisan "bright spots" as well, with senators like Rand Paul (R-Ky.) and Barbara Boxer (D-Calif.) working together to give the Iran negotiations a chance to succeed against the bipartisan hawks.
A deal with Iran is far from a sure thing, but if the negotiations are successful, Netanyahu's speech this week could help separate the "anti-Israel" attack from support for a deal, especially if his maneuvers don't get him re-elected.