Gene Healy on the Bipartisan National Security State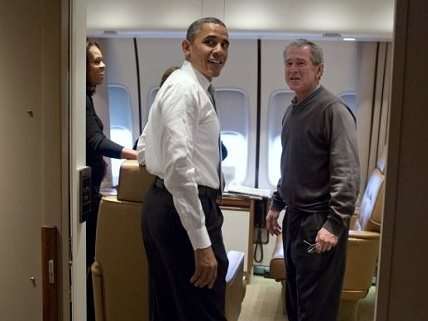 It seems ages ago now, but there really was a time when some civil libertarians held out hope for Barack Obama's presidency. If elected, this former constitutional law professor might be "our first president who is a civil libertarian," Jeffrey Rosen enthused in The New York Times in March 2008. On inauguration night in 2009, defense lawyers at Guantanamo Bay actually formed a celebratory conga line, chanting "rule of law, baby!"
They and many other Obama optimists, writes Gene Healy, woke up to a hell of a hangover, one that's lasted six years. The president has launched more than six times as many drone strikes as George W. Bush; ordered the remote-control execution of an American citizen; continued and expanded dragnet domestic surveillance programs based on a secret interpretation of the PATRIOT Act; and launched two undeclared wars.