Chelsea Manning to Get Hormone Treatment in Prison
First time the military has approved transgender therapy for active soldier.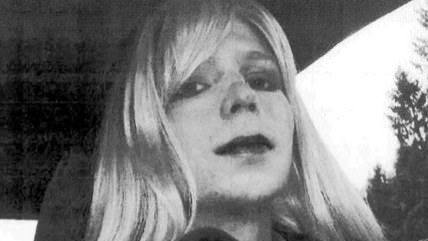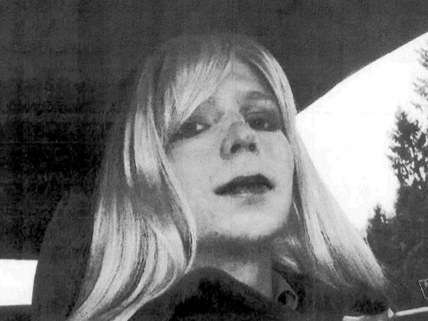 Chelsea Manning has been given clearance to receive the hormone therapy associated with transitioning to a woman, even while she remains in Fort Leavenworth, convicted of leaking loads of confidential documents related to the Iraq War. USA Today got a copy of a memo. This would be the first time the military would be providing such a treatment:
"After carefully considering the recommendation that (hormone treatment) is medically appropriate and necessary, and weighing all associated safety and security risks presented, I approve adding (hormone treatment) to Inmate Manning's treatment plan," Col. Erica Nelson, the commandant of the Fort Leavenworth Disciplinary Barracks in Kansas, wrote in a Feb. 5 memo.

Formerly named Bradley Manning, the soldier was convicted of sending classified documents to anti-secrecy website WikiLeaks. Manning is serving a 35-year prison sentence and is eligible for parole in about seven years.
Manning sued, with the help of the American Civil Liberties Union, in order to demand access to the treatment. What's left unclear in USA Today's story (because they couldn't seem to get anybody to answer questions) is whether Manning will be paying for the treatment herself, as her lawyer said back in 2013 she was willing to do. If she is, I'm hard pressed to see any reason why anybody should have cause to complain about her treatment (other than the desire by some folks to make sure that people who are imprisoned also suffer to a certain degree as part of the punishment). I'd classify this as similar to my position that public schools should accommodate the needs of transgender students. If the government is going to use its authority to keep people in prison or enforce mandatory school attendance, they are then obligated to deal with those people's issues as they relate to their forced interactions in the state. In the private world, people should have no obligation to respect Manning's transition, and the government shouldn't go around demanding private businesses police their bathrooms in certain ways (either in favor of or in opposition to respecting the needs of transgender individuals). But this is the government. They locked her up.
The end of the military's "don't ask, don't tell" policy, which booted gay and lesbian service members if their sexual orientation became public knowledge, did not change the military's current policy of not accommodating transgender members. The Department of Veterans Affairs, though, does cover hormone therapy for transgender vets. According to USA Today, more than 3,000 vets between 2001 and 2011 have been diagnosed with gender identity disorder.