Marco Rubio Lumps Iran, North Korea, and the Taliban in with Cuba Because Why Not?
Axis of evil 2.0? Rubio illustrates the one-dimensional thinking of many interventionists, enemies everywhere and only America to do something about it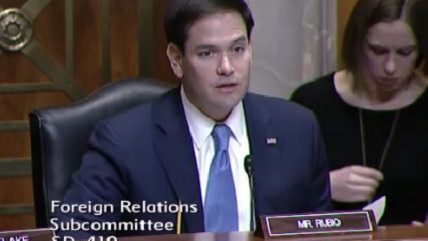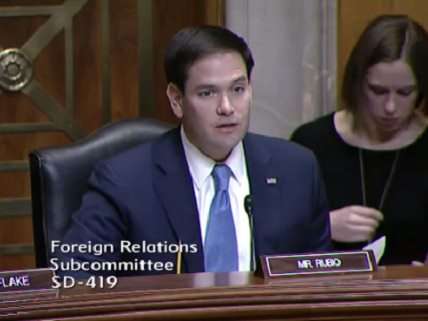 Sen. Marco Rubio (R-Fla.) chair of the Senate Foreign Relations Subcommittee on Western Hemisphere, Transitional Crime, Civilian Security, Democracy, Human Rights, and Global Women's Issues, is holding a hearing on "the impact of U.S. policy changes on human rights and democracy in Cuba."
In an op-ed published at CNN.com, Rubio previewed the hearing by explaining his concerns about U.S.-Cuba negotiations:
Last week, Cuban President Raul Castro declared that his regime would not even entertain the Obama administration's requests to normalize ties until the United States abandons our naval base at Guantanamo Bay, ends the trade embargo, ceases pro-democracy radio and television broadcasts into Cuba and compensates the regime for "human and economic damages" the U.S. has, according to him, inflicted on the Cuban people. Last month, the regime's lead negotiator summed up its position even more succinctly after the first round of U.S.-Cuba normalization talks in Havana, saying, "Change in Cuba is not negotiable."

In other words, emboldened by the first wave of concessions Obama gave the Castro regime in the form of access to more U.S. dollars, it wants even more in exchange for nothing.
Some of the issues Rubio brings up are fair—all other considerations aside, the U.S. has a lease on Guantanamo Bay, and it's hard to imagine the U.S. agreeing to pay Cuba "damages" when the U.S. claims Cuba owes $6 billion for assets seized from American citizens. But in negotiations everything is negotiable. Saying that change isn't may have rhetorical purpose, but it's no reason to abandon the attempt to extract concessions, to negotiate. They may not succeed but they shouldn't be written off as failures before they're over.
While Rubio admits "reasonable people can disagree on the merits of what U.S.-Cuba policy should be in the 21st century," he himself doesn't seem interested in engaging with Cuba at all. He has non-negotiables too. Worse, Rubio's position is colored not just by his family's experience with the Cuba regime but a one-dimensional kind of thinking that's plagued interventionist Republicans for decades.
The clutch line of reasoning in Rubio's op-ed:
Cuba is not the only rogue regime with which Obama is engaging in an attempt to end bad behavior. When America sits at the negotiating table with one tyrant or radical regime, the others—from Iran to North Korea and elsewhere—watch closely and learn best practices that they can apply to advance their own anti-American agendas. Just as the Cuban regime reportedly cited our swap of five members of the Taliban in the negotiations for Alan Gross' release, the Iranians watched how North Korea exploited U.S. diplomacy, slow-walked negotiations and ultimately achieved their goal of developing a nuclear weapon.

There should therefore be no doubt that regimes around the world will be looking to emulate the Castro regime's so far successful efforts to take advantage of Obama's weaknesses and to undermine the U.S. role as the world's leading economic and military power.
Cuba and Iran and North Korea are each very different kind of places. At least Rubio didn't lump China into the list, though it's not surprising—it would not make him a Serious Candidate™, because China matters. It's a common way of thinking on the interventionist right, that when it comes to "anti-American" regimes their anti-Americanness is enough to define them and the kinds of policies that ought to be taken against them. President Bush did it by lumping Iraq, Iran, and North Korea into an "axis of evil." The U.S. went to war with Iraq, the one country on the list not pursuing a nuclear program. In the war on Iraq, Iran and North Korea learned more of a lesson than at any negotiating table.
It's good when countries talk, best when their people are permitted to trade and travel freely, separated from their governments' feuds. For fatalists like Rubio, negotiations between countries are impossible when those countries disagree. On its own, rejecting negotiation might not be so bad. But for Rubio and interventionists like him, the alternative is doing more, not nothing. That can be fatal.