Space Setback
Virgin Galactic crash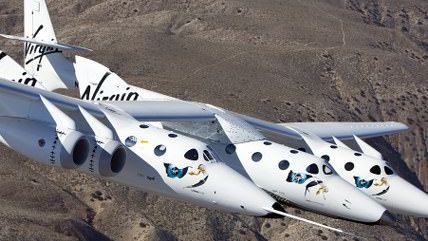 One pilot was killed and another was injured during an October 31 test flight of Virgin Galactic's SpaceShipTwo. This was the 55th test flight for the private space tourism craft and the 35th for WhiteKnightTwo, the jet that carries the rocket plane aloft. SpaceShipTwo was declared "lost" in the Mojave desert; WhiteKnightTwo returned safely.
The incident, which occurred days after the explosion of an unmanned Antares rocket built for the National Aeronautics and Space Administration by the private space company Orbital Sciences, reignited a discussion about the fate of the commercial space industry.
The day after the crash, Richard Branson told reporters his company would "not push on blindly" and "we owe it to our test pilots to figure out what went wrong. If we can overcome it, we'll make absolutely certain that the dream lives on."
The following Monday, the billionaire entrepreneur sounded more confident: "We've got to go through the difficult testing stage of creating a space line in order to make it safe for travelers who want to travel on that space line in the years ahead," he declared on CNN. "And we will persevere and we will succeed."
At press time there was speculation that the crash was caused by landing gear that was deployed too early. An investigation is ongoing.