Obama Wants More Spending, McCain Hates Anti-War Protesters, Senate Votes on KeystoneXL: P.M. Links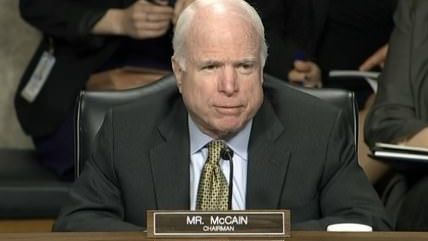 CNN

President Barack Obama's budget will be formally revealed on Monday. It will call for a full reverse of any sequester cuts (whatever hasn't already been reversed, one assumes) and a 7 percent ($74 billion) increase in spending.

Sen. John McCain called anti-war protesters from Code Pink who interrupted a Senate Armed Services Committee meeting "low-life scum." They were there to call for the arrest of Henry Kissinger, who was there to give a speech, for war crimes.
The second day of Senate committee hearings for attorney general nominee Loretta Lynch has partly been dominated by folks complaining about the behavior of the Obama Administration and current Attorney General Eric Holder rather than Lynch. Jacob Sullum and I analyzed Lynch's actual responses to Senate questioning here and here earlier today.
Learning all the wrong lessons from the prohibition, the drug wars, and the general, overall history of human behavior, Dartmouth announced today that it will prohibit all students, regardless of age, from possessing or drinking hard alcohol on campus. As Robby Soave has noted, fighting assault and rape on campus actually requires colleges to do the exact opposite.
The European Union has extended its existing sanctions on Russia for six months over continued fighting in Ukraine.
The Senate has voted to approve the construction of the Keystone XL oil pipeline. Obama has threatened a veto.
Create your own joke link: Sen. Lindsey Graham (R-S.C.) has launched a presidential exploratory committee.
Follow us on Facebook and Twitter, and don't forget to sign up for Reason's daily updates for more content.