WATCH: America's Worst School System Will Soon Be Dead. Will What Replaces It Be Any Better?
The remaking of public education in Camden, New Jersey.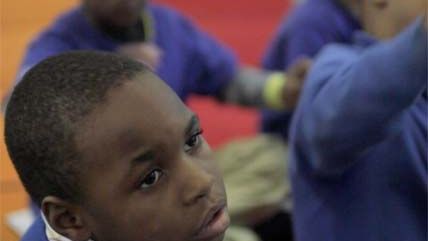 "I have girlfriends who have a lot of children who have been killed, and I look at their pain and hurt on their faces, and I don't want that," says Shantella Davis, who's an unemployed recovering drug addict and the single mother of a six-year-old named As-Sidq. "When I leave this earth I want him to be established…I want him to be able to go to college."
They live in the impoverished city of Camden, New Jersey, which is home to some of the nation's lowest performing public schools. "A lot of kids that came out of Camden High not knowing how to read and write," says Davis. "How did the kid get through the school not knowing how to read and write?"
But for her part, Shantella Davis hasn't shown herself to be the most proactive parent. Last year, As-Sidq was enrolled in public pre-K, but she says she wasn't feeling well enough to take him to school most days. So As-Sidq ended up staying home and missing most of the year.
Today, in an effort to better meet the needs of kids like As-Sidq Davis, the state of New Jersey is remaking Camden's public school system in a way that's not quite like anything that's been tried before.
Click above to watch the final installment of a three-part video series on Camden's public schools. Click here to watch part one, which looks at how dramatically boosting per pupil spending didn't fix the public schools in Camden and New Jersey's other poorest cities. Click here watch part two, which is a profile of LEAP, Camden's first and most successful charter school.
Reason Foundation is a partner in National School Week, an annual event that draws attention to increasing educational options for K-12 students and their parents. For more information on resources and activities, including more than 10,000 events taking place nationwide between January 25-31, go here now.
Click below for the complete text and downloadable versions of the video.