Feds Work on National License-Plate Tracking, Record Number of U.S. Inmates Exonerated, No Snowpocalypse in the East: A.M. Links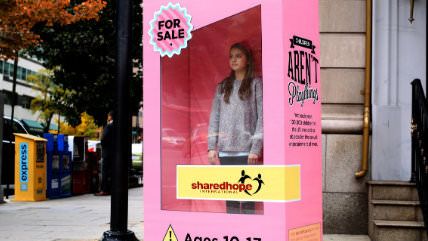 (Shared Hope International)
Shared Hope International

The Justice Department is building a program that can scan and store license-plate information from drivers around the United States, reports the Wall Street Journal.

In the wake of promising the nation a bunch of free things, President Obama's job approval rating has jumped to 50 percent for the first time since June 2013, according to a Gallup Poll conducted over the weekend.
The annual, unfounded panic that tons of Super Bowl fans want to rape children is going strong, with the organization Shared Hope International sticking kids in giant boxes on Phoenix street corners to raise "awareness."
The U.S. exonerated 125 wrongfully-convicted people in 2014, up from 91 in each of the two previous years. "This is part of a long-term trend," said law professor Samuel Gross, and based on a "cultural shift" among prosecutors as much as DNA-evidence testing.
Mandatory citizenship tests for high-schoolers ask things like, "Where is the Statue of Liberty?" when they should ask teens, "Can the police enter your house without a warrant?"
Freedom Partners, which serves as a hub of Koch brothers-backed political action, is gearing up to spend nearly $900 million in the advance of the 2016 elections, allowing the group of roughly 300 donors to "operate at the same financial scale as the Democratic and Republican Parties."
Yesterday's east coast blizzard wasn't as horrifying as everyone expected.
Follow us on Facebook and Twitter, and don't forget to sign up for Reason's daily updates for more content.