Obama: Tomorrow Tell Saudis to Stop Beating Journalists and to Let Dissidents Go
A one thousand lash insult to free speech.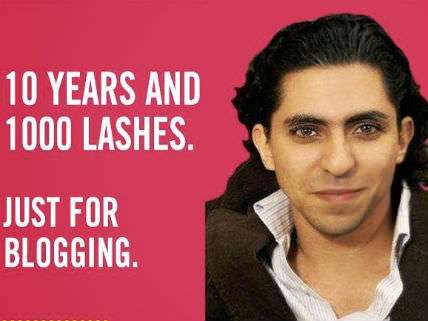 Tomorrow President Obama will meet with the new hereditary tyrant, uh, King of Saudia Arabia, Salman. Recently the world was treated to a video of liberal blogger Raif Badawi receiving the first 50 lashes of the 1,000 lashes to which he was sentenced for "insulting Islam." Badawi's only crime was running a liberal discussion website. President Obama should clearly and firmly explain American displeasure with this kind of oppression and tell our Saudi "allies" that it would be an expression of "good will" to let Badawi and other dissidents go free immediately.
Last week, several prominent American Christians, Jews, and Muslims sent a letter to the Saudi ambassdador to the United States offering to take 100 lashes each in Badawi's stead. From the letter:
We are persons of different faiths, yet we are united in a sense of obligation to condemn and resist injustice and to suffer with its victims, if need be. We therefore make the following request. If your government will not remit the punishment of Raif Badawi, we respectfully ask that you permit each of us to take 100 of the lashes that would be given to him. We would rather share in his victimization than stand by and watch him being cruelly tortured. If your government does not see fit to stop this from happening,we are prepared to present ourselves to receive our share of Mr. Badawi's unjust punishment.
Hooray for them! In the unlikely event that the Saudis take them on their offer, count me in, too. Flogging video below.