A.M. Links: Obama's State of the Union, Knife Attack in Tel Aviv, NFL Still Investigating Deflated Patriot Game Balls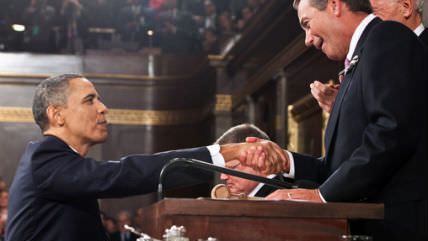 Credit: White House / Flickr.com

President Barack Obama advocated tax hikes, endorsed unilateral military action around the globe, and promised to wield the veto pen against congressional Republicans in last night's State of the Union Address.
At least seven people were stabbed during a rush hour knife attack at a Tel Aviv bus stop.
Vice President Joe Biden hinted yesterday that he might challenge Hillary Clinton for the 2016 Democratic presidential nomination.
"The NFL has found that 11 of 12 of the New England Patriots game balls were inflated significantly less than the NFL requires, league sources involved and familiar with the investigation of Sunday's AFC championship game told ESPN."
The Ukrainian military reports that Russian troops have attacked its forces in eastern Ukraine.
Japanese Prime Minister Shinzo Abe is vowing to "exhaust all possible measures" in order to free two Japanese citizens held captive by the Islamic State.
Follow Reason on Twitter, and like us on Facebook. You can also get the top stories mailed to you—sign up here.