Saudi Man Arrested for Capturing Beheading on Video
Saudi Arabia beheaded at least 83 people last year, many publicly, but unlike ISIS it doesn't want video of its acts on the Internet.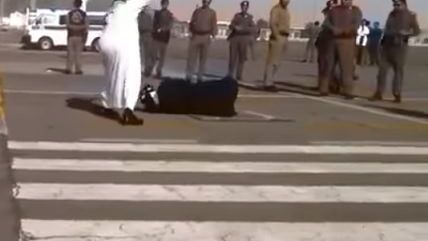 There are plenty of videos floating around online depicting beheading by the Islamic State of Iraq and Syria (ISIS). As an aspiring proto-state, ISIS is motivated to publicize its executions to demonstrate its authority, and the authority of its law, in territories the militant group claims as their own. Not necessarily so for established governments.
Beheadings are an accepted form of criminal sanction under Sharia law, although it is not identified as an explicit punishment to any specific crime. Saudi Arabia is the only country left in the world that still hands out beheadings as a punishment. The Saudi government beheaded at least 83 people in 2014, but unlike ISIS it isn't seeking to publicize its beheadings. Now a man who captured a recent beheading of a Burmese woman in Mecca who was convicted of killing her husband's daughter is under arrest. According to The New York Times, the Interior Ministry says the man will be prosecuted for cybercrimes.
Watch the video here.
Here is a partial transcript, via The Times of Israel:
"I did not kill. There is no God but God. I did not kill," cries the woman, covered in black, apparently kneeling on the pavement circled by police officers in the video on LiveLeak.

"Haram. Haram. Haram. Haram. I did not kill … I do not forgive you … This is an injustice," she screams in Arabic, using the Islamic term for something that is forbidden.

The executioner, dressed in a white robe, forces her to lie down on the ground, near a pedestrian crossing. Mountains are seen in the distance.

"I did not," she continues before a final scream as the executioner's curved sword severs her head, in a traditional execution for the kingdom, which carries out death sentences in public.

A voice then reads out her crime.
Related: Jacob Sullum on the problems with sanitizing capital punishment.