Police Chief Defends Using Black Male Photos as Target Practice
Actually, officers shoot at human faces in an array of colors, says chief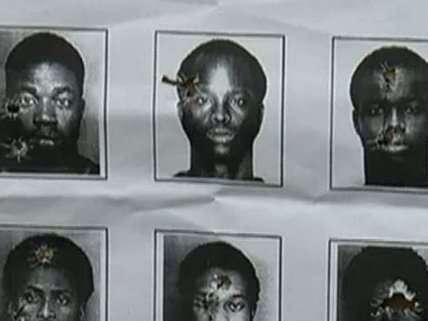 The North Miami Beach Police Department is facing criticism after officers were discovered using the mugshots of black men as targets during weapons training. "People that are out there supposed to be protecting us are using us as target practice," commented Woody Deant, one of the men pictured, to NBC Miami.
The practice was uncovered by Deant's sister, Florida National Guard Sgt. Valerie Deant, who happened to arrive at the Medley Firearms Training Center as police snipers were leaving. She noticed their paper targets, which featured the images of six black men, including her brother's 15-year-old mugshot marred by two bullet holes.
North Miami Beach Police Chief J. Scott Dennis defended the practice by pointing out that white and Hispanic faces were also used. Perhaps Chief Dennis could consider that the issue isn't a lack of diversity in the human faces police are trained to see as targets but the fact that police are trained to see human faces as targets?
Dennis told NBC that no department policies had been violated and the officers would continue to use mugshots for target practice, though they would expand the photo inventory and begin to exclude people booked by the department. He also said that shooting at real human photos was common law enforcement practice, and one necessary for facial recognition drills.
Several other law enforcement agencies told NBC Miami that the practice is not common. "The use of those targets doesn't seem correct," said Alex Vasquez, a retired FBI agent. "The police have different options for targets. I think the police have to be extra careful and sensitive to some issues that might be raised."