Federal Asset Forfeiture Scaled Back, GOP Presidential Debates Scaled Back, Inmate Describes Burning Pain When Being Executed: P.M. Links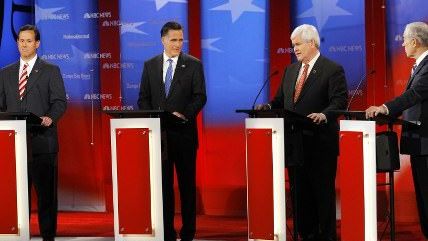 NBC News

Attorney General Eric Holder has ordered a scaling back in the way the Department of Justice works with local law enforcement agencies to seize citizen' assets when they're suspected of crimes. There are still several exceptions to the drawdown, though.

The Republican Party today announced it will cut the number of presidential primary debates for the 2016 election down to nine.
The Supreme Court will take up four cases challenging bans on same-sex marriage recognition.
Before dying, the inmate executed by Oklahoma yesterday reportedly said that it felt like his body was on fire and the drugs felt like acid when he was injected. The man, Charles Warner, was convicted of the rape and murder of an 11-month-old infant.
Is the Department of Justice's latest declaration that they had stopped a terrorism plot in Cincinnati yet another example of the FBI finding some angry loser online, creating the plan for him, and then arresting him for it?
Five people have been charged in a thwarted apparent terrorist plot to kill police in Belgium.
Turkish President Recip Tayyip Erdogan insists that Muslims have never engaged in "terrorist massacres."
Follow us on Facebook and Twitter, and don't forget to sign up for Reason's daily updates for more content.