The Crony Capitalism Litmus Test
The Ex-Im Bank won't survive 2015-if the GOP is serious about free market principles.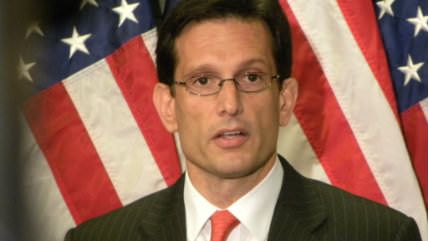 Rep. Eric Cantor didn't just lose his Virginia Republican primary. He was demolished. Dave Brat—a mostly unknown economics professor from a local college—beat the powerful Republican incumbent by 11 percentage points.
Cantor on June 10, 2014, became the first sitting House majority leader in the history of the job to lose his own party's primary. Nearly every pundit in America called Brat's win a political earthquake, and it didn't seem like much of an exaggeration.
One of the Cantorquake's biggest aftershocks came on Wall Street, where the next morning shares of Boeing dropped 2.3 percent-the biggest decline of all companies on the Dow Jones Industrial average that day. The headline at Bloomberg News told the story: "Boeing Tumbles as Cantor Loss Clouds Ex-Im Bank's Future."
How could the loss of a single House seat so thoroughly rattle the stockholders of a giant, profitable, stable company like Boeing, let alone the supporters of an obscure Washington institution like the Export-Import Bank? Boeing, it turns out, is the largest beneficiary of the Ex-Im Bank's loan guarantees, which are typically awarded to foreign companies and governments for the purposes of buying big-ticket items like U.S.-made jets.
And Cantor? He was the political point man tasked with holding down a grassroots insurrection against what many free market champions consider the embodiment of Beltway crony capitalism. His downfall signaled to activists on both sides of the Ex-Im fight that the Tea Party wave of 2010 might be on the verge of forcing the Republican Party to live up to its limited government principles.
In normal times, Congress re-authorizes the Ex-Im Bank every few years with minimal fuss, since both major parties share a broad enthusiasm for corporate welfare. But this time around, as the September 30 deadline for re-authorization approached, an epic battle erupted on the Republican side of the aisle, with free marketeers, libertarians, and Tea Partiers taking on the business lobby over a comparatively tiny but hugely symbolic federal agency.
As issues like war in Syria crowded out the September legislative calendar, the showdown was postponed when lawmakers agreed to a nine-month renewal of the agency, thus pushing the re-authorization battle to as late as June 2015 or as soon as December, should the lame-duck Congress decide to intervene on a longer-term deal. The bruised combatants on both sides are split over whether the postponement signals business as usual or the first real chance at lopping off this dispenser of political favors.
However it plays after the 2014 elections, the questions at stake remain the same: Do Republicans believe their free market talk? Or is it merely a cover for doing the bidding of business? And if Republicans can't kill or seriously trim a New Deal program that subsidizes foreign governments-mostly to buy Boeing jets-will they ever get serious about fighting corporate welfare?
What Is Ex-Im?
Most people have never heard of the Export-Import Bank of the United States.
Ex-Im exists outside of any cabinet department. Due to special accounting methods, it resides almost entirely outside the federal budget. Even its building is nondescript-the agency is housed in the least impressive structure in the neighborhood immediately around the White House, and that's saying something.
Franklin Roosevelt created Ex-Im in part as a way to subsidize Joseph Stalin. "Since the Bolsheviks had seized power in Russia in 1917, the United States had refused to accept the legitimacy of the new Soviet regime," Ex-Im's official historians William Becker and William McClenahan explain in their 2003 history The Market, the State, and the Export-Import Bank of the United States. "Throughout the 1920s, Presidents Harding, Coolidge, and Hoover conditioned recognition on the USSR agreeing to accepted standards of international conduct. That is, they wanted the Soviet government to end its support of revolutionary activities in other countries, return confiscated property, and accept the international financial obligations of its predecessor government."
But as Hitler's threat grew, FDR's foreign policy advisers and the business lobby pushed for normalized relations without conditions. To this end, FDR created the Export-Import Bank, initially capitalizing it with $10 million from the New Deal Reconstruction Finance Corporation. "Roosevelt's executive order of February 2, 1934, authorized the new bank to finance American trade with the USSR," Becker and McClenahan explain.
FDR steadily expanded the agency's purpose beyond the initial goal of helping Stalin, as Cuba and then China became Ex-Im customers. In 1945, Congress passed the Export-Import Bank Act, codifying the agency. Soon, ironically, Eisenhower was sold on Ex-Im's importance as a Cold War tool-the goal was to subsidize Third World countries to win them away from communism, as Becker and McClenahan tell it. Since then, the justification for it has constantly shifted: a foreign policy lever, an international development agency, a weapon in trade wars, and finally a job creator.
Ex-Im subsidizes U.S. exports through a few different financial products that all have one thing in common: they put the U.S. taxpayer on the hook if a foreign customer fails or refuses to pay back a loan. In Fiscal Year 2013, Ex-Im extended $27.3 billion in financing.
Ex-Im's biggest product is the long-term loan guarantee. Over the past three fiscal years, such guarantees made up $52.6 billion of the agency's $95.9 billion in financing. A fairly typical guarantee is the one that the Ex-Im's board of directors approved on August 22: Virgin Australian International Airlines was buying a new batch of Boeing jets and Canadian TD Bank was providing the financing, in the form of a 20-year loan to the Aussie airline. This looks like a regular market transaction until the Ex-Im Bank steps in to guarantee the loan, meaning that if Virgin Australian fails to pay back the Canadian lender, U.S. taxpayers cover the bank's loss.
The long-term loan guarantee program is mostly a subsidy program for Boeing. Of the agency's $52.6 billion in loan guarantees over the past three years, more than half has covered Boeing sales. This isn't a very diversified portfolio, but luckily for Ex-Im (and U.S. taxpayers), purchasers of jumbo jets have a tiny default rate so far.
Ex-Im also makes direct loans-$25 billion over the past three fiscal years. For instance, Ex-Im loaned $1.03 billion to Global Foundries, a semiconductor manufacturer owned by the Emirate of Abu Dhabi. The loan covered Global Foundries' purchase of U.S.-made equipment to build a factory in Germany.
In 2011, Ex-Im loaned $75.8 million at 1.68 percent interest to China's state-owned Industrial Commercial Bank of China (ICBC), whose aircraft-leasing arm was buying private jets from Hawker Beechcraft. ICBC happens to be the largest bank in the world. Hawker, at the time, was owned by Goldman Sachs. So when the largest bank in the world bought corporate jets from Goldman Sachs, Ex-Im greased the skids with a loan from U.S. taxpayers.
Ex-Im also offers smaller financial products, and these are the ones it talks about most. For instance, Miss Jenny's Pickles is a North Carolina-based pickle producer and retailer that began exporting to China in 2011, as the Heritage Foundation's Diane Katz tells it. Around then, Miss Jenny herself-Jennifer Fulton-attended a seminar in North Carolina conducted by Ex-Im CEO Fred Hochberg. Fulton shrewdly hunted down Hochberg's limousine driver and handed him a jar of her brined cucumbers. "They are very good pickles," Hochberg would later comment. "And as a New Yorker, I know my pickles."
Soon, Miss Jenny had secured Ex-Im credit insurance. If a Chinese grocer doesn't pay Miss Jenny, U.S. taxpayers will foot the bill. These days, Miss Jenny, clad in a pickle-green polo, travels the country with Hochberg, preaching the gospel of Ex-Im. Credit insurance constitutes about 19 percent of all Ex-Im authorizations, overlapping substantially with Ex-Im's small-business portfolio, which also accounts for 19 percent of the agency's financing.
Then Comes the Tea Party
"Ex-Im has long enjoyed broad bipartisan support in the Congress," Boeing Vice President of Government Operations Timothy Keating reminisced in a speech this September. Keating is right. Ex-Im is the perfect totem of Washington bipartisanship. For Democrats, Ex-Im is a New Deal government program that supports manufacturing (where workers are 50 percent more likely to be unionized than in the rest of the private sector) and gives bureaucrats the power to steer money toward things like green energy and women-owned businesses. For Republicans, Ex-Im is pro-trade, pro-business, and pro-Wall Street.
The House re-authorized Ex-Im with a voice vote in 2002 and then the Senate passed the bill by unanimous consent. In 2006, Congress re-authorized the agency again by voice vote and unanimous consent. At times-such as in 2001-some conservatives and a very few liberals put up a fight over the bank, but it never faced a real existential threat.
Then came the 2010 elections, the Tea Party, and the GOP takeover of the House of Representatives, all of which complicated the scheduled 2012 re-authorization of the bank. Many House conservatives said "no way." Tea Party-ish Sens. Mike Lee of Utah, Rand Paul of Kentucky, Marco Rubio of Florida, and Pat Toomey of Pennsylvania-all of whom had to beat the GOP establishment to get to Washington-came out foursquare against the agency.
Then-Minority Leader Mitch McConnell (R-Ky.), who had never objected to Ex-Im in the past, but who would face a Tea Party primary challenge himself in 2014, came out against re-authorization in March 2012, blocking a vote on the bank.
Still, in May 2012, the upper chamber voted 78-20 to renew the bank's charter. Those 20 "nay" votes were the most ever, and they included McConnell, soon-to-be Finance Committee ranking member Mike Crapo (R-Idaho), and other senior Republicans, alongside the new Tea Partiers. In the House, nearly 100 Republicans voted against renewing the charter-also the highest total on record.
Whence this flare-up of anti-corporatism?
First, much of the anger that initially fueled the Tea Party storm was rooted in the 2008 bailouts-AIG, Fannie Mae, Freddie Mac, TARP, Chrysler, General Motors. Corporate welfare joined Obamacare and the national debt on the short list of evils the insurgent Republican candidates promised to battle. Paul, then a Senate candidate in Kentucky, blasted his primary opponent because one of his fund raisers was an AIG lobbyist. Sen. Bob Bennett (R-Utah) and Rep. Bob Inglis (R-S.C.) both lost primaries while being branded as "Bailout Bob."
The anti-establishment, anti-Ex-Im freshman senators -Paul, Lee, Rubio, and Toomey-not only had to beat the party leadership to win their primaries, but they also had to beat K Street: The business lobby firmly backed their primary opponents.
Which brings us to the most important force powering the GOP's nascent free market populism: a new source of money. Traditionally, the business lobby was the primary source of contributions for GOP candidates, which made Republicans wary of alienating big business. But Internet advances and the liberalization of campaign finance laws have decentralized fundraising.
After Citizens United v. Federal Election Commission, a 2010 Supreme Court case that voided some campaign finance restrictions, Internet-enabled rivals to K Street sprung up: the "SuperPACs" for Club for Growth, Senate Conservatives Fund, FreedomWorks, and Americans for Prosperity, among others. When House and Senate candidates backed by these new grassroots funders started winning elections against business-backed opponents, it liberated the party from K Street's clutches. With that freedom, and supported by the vote-whipping muscle of the newly powerful Heritage Action For America (HAFA), the lobbying arm of the conservative Heritage Foundation, the anti-corporate-welfare cause began to grow.
In spring 2012, Club for Growth, FreedomWorks, Senate Conservatives Fund, and Heritage Action put Ex-Im re-authorization on their scorecards, so that a vote for Ex-Im was considered a vote against free markets. Club for Growth even tried to block the re-nomination of Hochberg, the Ex-Im CEO, unless Congress agreed to wind down the agency.
Hochberg easily won reappointment in 2012, just as Ex-Im received votes from a majority of Republicans (and all Democrats) in both chambers, thanks to support from industry players with lots to lose. In other words, the Ex-Im fight of 2012 showed that the Tea Party represented a new force in the party, but that big business still called the shots.
The Battle of 2014
The most important "nay" in Ex-Im's 2012 re-authorization wasn't fiscally conservative budget wonk Rep. Paul Ryan (R-Wis.) or McConnell. It was Texas Republican Rep. Jeb Hensarling. A former chairman of the Republican Study Committee, the conservative caucus within the House GOP, Hensarling was in line to become chairman of the House Financial Services Committee after the 2012 elections.
In June 2013, Hensarling took the occasion of a subcommittee hearing to lay a rhetorical broadside on Ex-Im. "By inserting political considerations into the market," he declared, "the Bank's activities do expose taxpayers to risks while producing a less efficient economy than would otherwise occur in a free market without the Bank's interference. I have long believed that many taxpayers feel that it is indeed time to EXIT the EXIM."
Hensarling's press office blasted these comments out to the media. Democrats griped that he hadn't done the spadework of calling a hearing to discuss, craft, and eventually pass an Ex-Im bill. Finally, in May, Hensarling planted the flag. Speaking at the Heritage Foundation, he said, "Today I call on every Republican in Congress to simply let Ex-Im expire."
Over the summer, Hensarling and his staff went from office to office trying to convince Republicans to let Ex-Im die. Instead of holding a meeting to mark up a re-authorization bill, Hensarling held a June hearing simply to discuss whether the agency should exist, featuring as many Ex-Im critics as customers.
On one level, the persuasion was unnecessary. If a committee chairman doesn't want a bill to pass, he simply doesn't hold a hearing on it and the bill dies.
Unless, that is, the majority party's leadership circumvents normal order and brings the bill straight to the floor. This was how Majority Leader Eric Cantor had passed Ex-Im in 2012. And so after Hensarling's May speech at the Heritage Foundation, a spooked export lobby turned to Cantor.
Yes We Cantor
In party leadership, different people have different jobs, determined by leadership position, geography, seniority, and personal skills. Eric Cantor's job-first as a deputy whip, then as minority whip, and finally as majority leader-was always the same: to be the GOP's No. 1 liaison to Wall Street and one of its main interlocutors with the broader business lobby.
This is why Cantor was the right guy to save Ex-Im in 2012, and it's why K Street and the Chamber again looked to him to save them from Hensarling in 2014.
Brat, the economics professor, made crony capitalism a central theme of his campaign against the heavily favored incumbent. Brat called himself "pro-business" but contrasted himself with Cantor by saying that he was "against big business in bed with big government."
On the night of June 10, Brat shocked everyone outside his immediate family by winning his primary against Cantor, 55 percent to 44 percent. In the victory speech, he swore, "I will fight to end crony capitalist programs that benefit the rich and powerful."
When the stock market opened a few hours later, Boeing's stock sank. It recovered a bit later in the day, but as Bloomberg reported, the slide to $134.10 per share was still "the steepest drop since April 10," enough that it "erased a year-to-date gain for the Chicago-based manufacturer."
Cantor's defeat also opened up the majority leader job, which House Majority Whip Kevin McCarthy (R-Calif.), a Cantor acolyte, slid into. McCarthy's first national media hit as presumptive majority leader, days after Cantor's loss, was on Fox News Sunday. Host Chris Wallace asked McCarthy, who had voted for Ex-Im in 2012, about the 2014 re-authorization. When McCarthy criticized the agency, Wallace pinned him down: "You would allow the Ex-Im Bank to expire in September?"
"Yes," McCarthy immediately said. "Because it's something that the private sector can be able to do."
That statement kicked the anti-Ex-Im lobby into gear.
Heritage Action has led the charge. The group made killing Ex-Im "a major theme" of weekly calls with its local activists, or "sentinels," according to HAFA President Mike Needham. Sentinels, in turn, brought up Ex-Im at town halls with their congressmen and flooded congressional switchboards with phone calls. Heritage Action also produced two Web videos explaining Ex-Im, and for a while this summer and fall, HAFA's official Twitter account had the words End Ex-Im in its avatar.
Needham calls Ex-Im "the Bridge to Nowhere of the corporate welfare fight." In the last decade, conservatives won a symbolic-but ultimately small-victory when they eliminated a beloved earmark benefitting the powerful Sen. Ted Stevens (R-Alaska). Killing that pet project saved taxpayers a few hundred million dollars, but it also broke down the dike. Soon, Republicans had become the anti-earmark party. Activists saw that Ex-Im could be the fight that likewise turned the GOP into the anti-corporate-welfare party.
The Club for Growth and Americans for Prosperity, too, began whipping their grassroots members against Ex-Im. It helped that the free marketeers also had air support-from the country's largest airline.
Delta Force
Concentrated benefits and diffuse costs are the best defense that corporate welfare enjoys. A billion-dollar subsidy to a big company costs each American only $3 in taxes. Who's going to lobby harder on the matter: the subsidizer or the subsidized?
Ex-Im's budget shenanigans exacerbate the problem: The agency's operating expenses are not direct outlays, because Ex-Im is able to cover those with interest charges and origination fees. The agency's real costs are risk and exposure, which is easy to disguise or ignore.
But most of the damage caused by Ex-Im comes from market distortions. Subsidizing one company tends to hurt another. Favorable financing for Miss Jenny's Pickles gives it an advantage over other U.S. pickle producers, who have to compete with Miss Jenny for cucumbers, dill, glass jars, and brand recognition. Subsidizing Chinese steel mills hurts U.S. steel mills. Subsidizing European purchases of U.S. tractors puts upwards price pressure on tractors, which hurts American farmers.
These victims of Ex-Im are unlikely to coalesce into a lobbying force-the harm, while real, is both hidden and diffuse. But in the current fight, one victim has spoken out: Delta Airlines.
In 2013, Delta sued Ex-Im for subsidizing its foreign competitors. Pointing out that about 46 percent of Ex-Im's total outstanding exposure-nearly $50 billion-was to foreign airlines, Delta argued: "These foreign airlines will recoup their investment in their new aircraft faster or reduce ticket prices on competing routes without adversely impacting their relative rate of return on those investments."
Delta executives charged that Air India, having received billions in Ex-Im subsidies over the years, used those artificially cheap Boeings to lower its operating costs, thus crowding out Delta on the New York-to-Mumbai route.
Suddenly, a big American company was lobbying against Ex-Im. This opened the ears of many Republicans, who tend to be more persuaded by business concerns than lofty ideas like free enterprise.
Exporters for Ex-Im
"A government that robs Peter to pay Paul," George Bernard Shaw quipped, "can always depend on the support of Paul." Ex-Im's clients have been unabashed about this truism, launching the "Exporters for Ex-Im" campaign, in which profitable subsidized businesses explain how much they enjoy their subsidies.
Leading the pro-Ex-Im charge in 2012 and 2014 has been the U.S. Chamber of Commerce, the largest lobbying organization in the country. The Obama administration appreciated this pro-subsidy lobbying so much that Hochberg, Ex-Im's president, gave Chamber President Tom Donahue the "Chairman's Award" in 2013, to thank him for helping save the bank.
The National Association of Manufacturers joined the Chamber in spearheading the Exporters for Ex-Im Coalition, along with the Nuclear Energy Institute, the Association of Equipment Manufacturers, the Aerospace Industries Association, and other industrial lobbies. Bankers got in the fight, too-the Financial Services Roundtable and the Bankers Association for Finance and Trade both joined. JPMorgan Chase and Wells Fargo also lobbied on Ex-Im, according to their lobbying disclosure forms.
Exporters for Ex-Im over the summer deployed its "Dream Team" of lobbyists, including Haley Barbour, former governor of Mississippi and former chairman of the Republican National Committee, and Dick Gephardt, former House minority leader and former Democratic presidential candidate. On the P.R. front (that is, not lobbying members directly) was former Bush White House Deputy Spokesman Tony Fratto.
Keating, Boeing's vice president and top lobbyist, has been busy as well. He was previously a top aide in the Clinton administration-a "consummate political insider," as the Seattle Times describes him. Bill Clinton even called out Keating by name while speaking at Ex-Im's annual conference in 2012.
Keating brags about having lobbied "almost every member of Congress" on behalf of the bank. "We are what America should be," he told the Seattle Times, "manufactured here and sold overseas." As for Ex-Im's opponents, Keating brands them as "mostly far-right political consultants, think tanks and congressmen" who "banded together in a fit of ideological road rage to kill the bank."
Even Barack Obama, that self-styled scourge of corporate lobbying, dedicated his August 23 weekly address to boosting Ex-Im and imploring businesses to lobby for renewal. "Your members of Congress are home this month," Obama said, transitioning to his role as lobbyist advisor. "If you're a small business owner or employee of a large business that depends on financing to tackle new markets and create new jobs, tell them to quit treating your business like it's expendable, and start treating it for what it is: vital to America's success. Tell them to do their jobs-keep America's exports growing, and keep America's recovery going."
The Battle Postponed
September was supposed to bring resolution to the Ex-Im fight. Because Hensarling wouldn't pass a re-authorization bill through committee and McCarthy wouldn't circumvent Hensarling to move a bill straight to the floor, Ex-Im's only hope for survival was to ride on the back of some unrelated must-pass legislation before its September 30 expiration date.
Senate Majority Leader Harry Reid threatened to attach a five-year Ex-Im renewal to an omnibus appropriations bill that would fund the government past the end of the fiscal year. The "Continuing Resolution," or "C.R." as it's known on Capitol Hill, would have forced conservatives to either shut down the government on October 1-again-or cave on re-authorizing Ex-Im.
Instead of any of that, leaders of both chambers on September 17 agreed to stick a nine-month extension of Ex-Im into a C.R. funding the government through mid-December. The deal passed the House 319-108, and the Senate 78-22.
Conservative groups immediately came out against the short-term extension-any vote for Ex-Im is a vote for corporate welfare, they maintained. "There will be some who profess opposition to Ex-Im while publicly worrying that President Obama and Senate Democrats will consider an extension of the bank as a prerequisite to fund the federal government," Heritage Action CEO Mike Needham wrote in an email. "Ex-Im is the poster child for cronyism and corporate welfare, and conservatives cannot shy away from the national spotlight or allow others to muddle what should be a clear, anti-cronyism, anti-corporate welfare message."
Tea Party enforcers at Heritage Action and Club for Growth felt that conservatives would lose their political leverage after the November election-specifically, when McCarthy won a full term as House majority leader. Their best chance, many conservatives would argue behind closed doors, was to make it clear to McCarthy that he could keep his job only by helping kill Ex-Im.
But many Ex-Im allies also hated the nine-month extension. House Minority Leader Nancy Pelosi (D-Calif.) made it clear she wanted any short-term Ex-Im renewal to have the same timing as the C.R., so that opponents of the bank would always be faced with an unpopular government shutdown as their only mechanism for ending the bank. "I'm totally opposed to" a nine-month extension, Pelosi said on September 11. "If you put the date to next June, you are effectively putting a marker as to the demise of the Ex-Im Bank."
Boeing lobbyist Keating was similarly nonplussed, railing in October that "The temporary extension recently enacted in many respects leaves us worse off than before. The extension is to next summer, when in all likelihood the Congress will be more polarized than even now."
Republicans will probably hold more Senate and more House seats in 2015 than in 2014. As of press time, all major election models were predicting a GOP takeover of the Senate.
Still, if you took a poll of both chambers on Ex-Im, more members would favor the bank than oppose it. All Democrats voted for Ex-Im in 2012. About half of Republicans probably support it now.
That means that to win-to kill or significantly pare back Ex-Im-Hensarling, Heritage Action, the Club for Growth, and their allies need to actually change Republicans' hearts. They'll get a boost if November brings victories to Senate challengers being attacked for opposing Ex-Im: John Cassidy in Louisiana, Cory Gardner in Colorado, and Thom Tillis in North Carolina.
Most important might be the presidential primary, which will be in full swing by the May and June re-authorization debate. Candidates for the GOP nod will be courting the conservative base. Increasingly, that base sees corporate welfare as a signature vice of both the GOP establishment and Obamanomics. That means most Republican contenders will have to oppose Ex-Im.
When 29 governors wrote to Congress demanding re-authorization in July 2014, a number of Republican governors declined to sign the letter, including Scott Walker, Mike Pence, Bobby Jindal, Rick Snyder, Chris Christie, and John Kasich. In other words, every governor with 2016 ambitions refused to back Ex-Im, except for Rick Perry.
Fearing next summer's political atmosphere, K Street has begun pushing for a re-authorization vote tied to the C.R. that expires December 17. Proponents hope the Senate will pass a C.R. to fund the government for the rest of the fiscal year-that is, through September 2015-and include in the deal a five-year Ex-Im renewal.
In October, California's Maxine Waters, the top Democrat on the Financial Services Committee, and Gary Miller, the committee's former Republican chair, introduced such a long-term re-authorization. This could set up a fight in the 2014 lame duck session.
If not, the Ex-Im battle will come in 2015. In either case, it will be a test of the Republican congressional leadership: Have they learned a lesson from the public's reaction to the bailouts, from the Tea Party's energy, and from Eric Cantor's defeat? Or will the GOP abandon free enterprise for business, as usual?
This article originally appeared in print under the headline "The Crony Capitalism Litmus Test".