Dallas Cop Disarms Armed Suspect Without Shooting at Him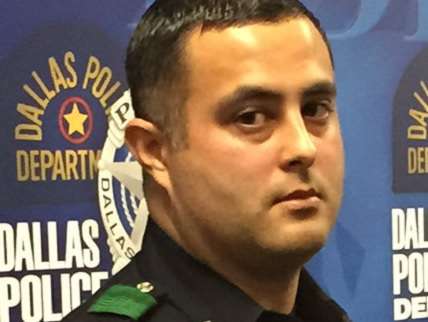 Good police work from a Dallas cop on his way in to his job, via The Dallas Morning News:
The suspect was fighting with two clerks at the store in the 1600 block of Storey Lane. [Officer Richard] Stewart heard the man tell the clerks that he was going to shoot them. The clerks had chased the suspect after he allegedly stole Tequila.

Stewart tried to intervene. He said he pushed the gun downward and struggled with the suspect for about five minutes.

At one point, the suspect pointed his revolver at Stewart. The officer said he managed to lodge his finger between the trigger guard and the trigger, preventing the suspect from firing. Stewart said the man still tried to shoot him in the head. Eventually, Stewart also used his hand to release the revolver's cylinder and empty out the bullets.

Stewart, who has three children, one of whom was born in October, said he didn't have time to be afraid of what might happen.

"I was thinking, 'I'm not going to die today,'" Stewart said.
And that thought didn't lead him to empty his clip, reload, and empty his clip again. Stewart said when he first saw the fight he really didn't want to intervene but thought he should when it appeared to be a robbery.
Happy Holidays.