Big Eyes
Tim Burton takes on the king of kitsch.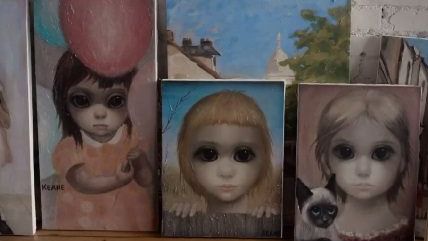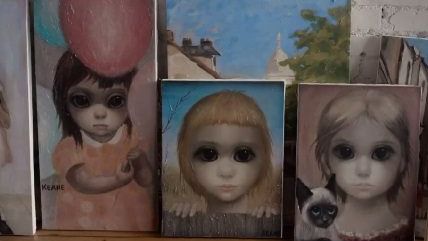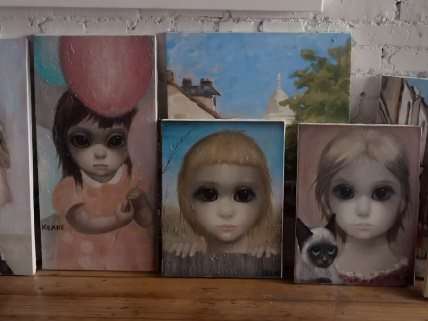 In the 1960s, Walter Keane was one of the world's most famous—and possibly most derided—painters. His pictures of sad little children with big saucer-size eyes might have exemplified "heroic bad taste," as one New York museum curator put it, but museums in Spain and Belgium hung them proudly, and stars like Joan Crawford, Kim Novak and Natalie Wood collected them. The paintings themselves were far outnumbered by the posters and postcards that Keane turned them into, and it was these gift-shop simulacra that made him rich.
But Keane's self-trumpeting success ("My brush is continually discovering new things," he said) was his undoing. In 1970, his fed-up ex-wife Margaret announced that it was actually she who had painted all those big-eyed waifs, not Walter. "He was the one who promoted the paintings and sold them," she told a UPI reporter. "I can paint, and he can't." After years of dispute, Margaret filed suit to claim authorship of the Keane paintings, and after a hilarious courtroom showdown, she finally prevailed. Today, in her eighties, she's still painting, and her late husband's Wikipedia page accords him a different kind of fame from that which he'd once enjoyed: It describes him simply as "American plagiarist."
This is a great story, and Tim Burton has now turned it into a breezy and rather slight movie, with Amy Adams playing Margaret Keane and Christoph Waltz in the role of Walter. It's an unusual Burton film. Apart from a supermarket scene in which Margaret imagines outsized Keane-style eyes on the faces of other shoppers, there are no pop-grotesque fantasy effects of the sort common in the director's bigger-budget pictures. (This one cost $10-million.) Instead, Burton focuses on the plight of a female artist struggling for recognition in the old, pre-feminist America. He also addresses a question previously raised in his 1994 Ed Wood: What is art? And who gets to decide?
The movie begins in the 1950s, with Margaret fleeing a broken marriage with her small daughter Jane in tow. They settle amid the bohemian ferment of San Francisco's North Beach. There, at an outdoor art show, Margaret meets Walter, a prosperous realtor who admits he's only a "Sunday painter." Walter's own pictures—trite street scenes of Paris, where he claims to have studied, or something—are ignored by passersby; but Margaret's big-eye sketches of little Jane draw some interest. Walter senses potential. He and Margaret soon marry, and after being rebuffed by one snooty gallery owner (Jason Schwartzman), Walter begins showing his wife's work on the walls of a famous boho nightclub, the hungry i.
Walter may not be much of a painter himself, but he knows how to sell. Soon Margaret's paintings are commanding thousands of dollars from well-heeled collectors. When she discovers that Walter is taking credit for them, she confronts him. "Why are you lying?" she asks. "I just want to share them with the world," he says. Acknowledging her as the real artist, he tells her, "would be confusing."
High-toned tastemakers wonder why anyone would want to take credit for the Keane paintings. One of these eminences, New York Times art critic John Canaday (an icy Terence Stamp), dismisses the Keane paintings as "an infinity of kitsch." "Mr. Keane is why society needs critics," Canaday harrumphs. "To protect them from such atrocities."
Over the course of 10 years, as the submissive Margaret churns out big-eye paintings in a cramped home studio, Walter becomes an increasingly abusive drunk. After she leaves him and relocates to Hawaii, Burton and his cinematographer, Bruno Delbonnel (Inside Llewyn Davis), use the island's dappling sun and flowery attire to create a kitsch vision of their own—an affectionate tribute to this long-ago pre-hippie period.
The movie is dimmed a bit by its muddled tone, an uncertain mix of drama and comedy with, at one point, an intrusion of dark, Hitchcockian menace. (The screenplay is by Scott Alexander and Larry Karaszewski, who also scripted Ed Wood.) And perhaps understandably, the characters never quite come into focus. Is Walter a charming rogue or a scummy exploiter? (Waltz overplays both aspects at various times.) And why is Margaret such a doormat? (Adams, at her most winning here, does her best to give this woman emotional dimension, but can't really break through till the second half of the picture.)
As he did with the films of the assertively untalented Ed Wood, Burton takes no position on Margaret's big-eye paintings. Are they not by now a species of folk art, to be savored as guileless artifacts of the benighted past? Are they really worth reviling anymore? In one Times review, the real-life John Canaday dismissed them as "the very definition of tasteless hack work." But here we have Walter asking, "What's wrong with being the lowest common denominator?" A question for the ages.