A.M. Links: NYC Politicians Not Interested in Exploiting Police Reform Movement Anymore, George H.W. Bush in Hospital, Game Networks Crash on Christmas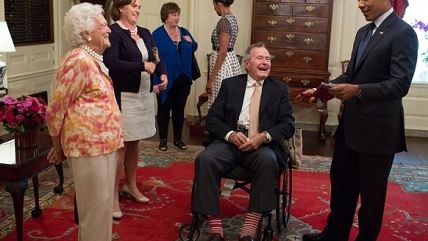 White House

After the on-duty killing of two cops last weekend, politicians in New York City are no longer trying to attach themselves to the police reform movement that's loosely centered itself around that city.

Labor unions are courting immigrants who may be legalized because of executive action by President Obama as potential new members.
A man who was shot by a cop in Newark, New Jersey while trying to flee in a taxi will be charged with resisting arrest, making terroristic threats, possession of marijuana, and possession of a loaded gun. It's unclear why police initiated an encounter with the man.
After being brought in as a "precaution," George H.W. Bush spent a third night in the hospital.
Al-Shabaab took credit for eight militants who infiltrated an African Union base in Mogadishu, killing three peacekeepers and a contractor.
Hackers claimed responsibility for a Christmas Day crash of the online services associated with the Xbox and PlayStation video game systems.
Follow Reason on Twitter, and like us on Facebook. You can also get the top stories mailed to you—sign up here.