A.M. Links: House Intel Chair Warns of Violence if Senate Releases Torture Report, New Horizons Wakes Up Close to Pluto, Home Video Game Console Inventor Dies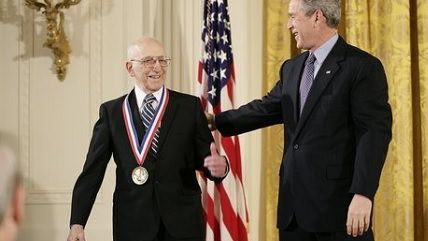 RalphBaer.com

House Intelligence Committee Chairman Mike Rogers (R-Mich.) says the Senate should not release a report on torture practices of the CIA because it might provoke "violence and deaths." Meanwhile, six prisoners from Guantanamo Bay were flown to Uruguay for resettlement.

Protests over the death of Eric Garner in police custody in New York City continued on the West Coast, with protesters in Berkeley, California, hurling rocks at cops.
The United States will continue to attempt to rescue hostages held in Yemen, despite three failed raids so far.
North Korea denied being involved in the hacking of Sony Pictures, which is producing a film about an attempted assassination against Kim Jong Un, but applauded the move.
The space probe New Horizons has awoken from sleep mode as it approaches Pluto. Back on Earth, NASA launched the Orion capsule, expected to be the model used for future, manned deep space missions
The inventor of the home video game console, Ralph Baer, died aged 92.
Reason's annual Webathon is underway! Your (tax-deductible!) gift will help Reason magazine, Reason.com, and Reason TV bring the case for "Free Minds and Free Markets" to bigger and bigger audiences. For giving levels and associated swag, go here now.