Three Reasons to Support Reason's Webathon!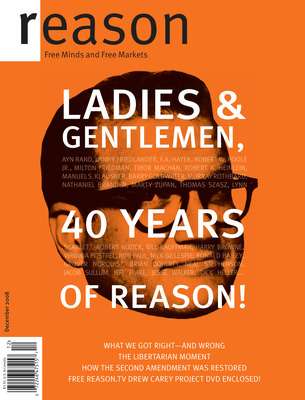 We're looking to raise $200,000 in our annual Webathon.
Please give whatever you can. All donors get their name emblazoned in the web banner above (unless you choose anonymity!)
And then there's all sorts of fun stuff that comes your way depending on how much you send our way. For $100, you get a Reason beanie wool cap, a year's subscription to the print mag and new digital edition (with archives that stretch all the way back to our founding in 1968). For $500, you get all that, plus a Reason tote bag, a classic black Reason t-shirt, and a signed copy of Damon Root's great new Supreme Court history, Overruled. Go here for the swag associated with various giving levels.
Here are three reasons to give to Reason:
1. We're the planet's top source of news, information, and analysis from a libertarian perspective. Between the print mag, Reason TV's 500-plus videos a year, and Reason.com, Reason is teh interweb hub for discussions about "Free Minds and Free Markets." Our audiences and relevance are stronger than ever. We pull 1 million views a month at Reason TV's YouTube channel and 4 million visits a month at Reason.com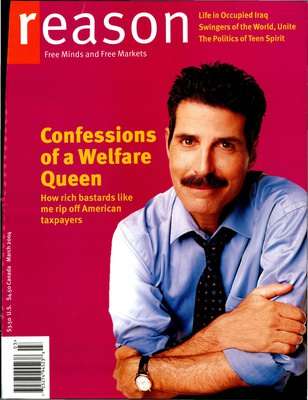 2. We're reaching journalists and public figures with a new way of thinking about the world and the role of government, commerce, and individuals. Fox Business's John Stossel credits Reason with turning him from a conventional consumer-affairs reporter who played gotcha in predictable and un-illuminating ways. Here's my gloss on the way he described it in his 2004 book, Give Me a Break:
After growing disillusioned with liberal and conservative media outlets, he turned to reason. "It was a revelation," he writes. "Here were writers who analyzed the benefits of free markets that I witnessed as a reporter. They called themselves libertarians, and their slogan was 'Free Minds and Free Markets.' I wasn't exactly sure what that meant, but what they wrote sure made sense."
Watch Stossel tonight at 9pm ET on Fox Business.
Something similar happened to Drew Carey, who told Time magazine in 2007:
I never thought I was a libertarian until I picked up Reason magazine and realized I agree with everything they had printed.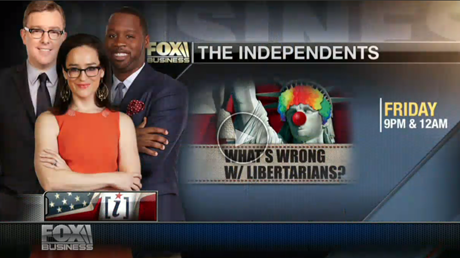 3. We're your voice in public debates over politics, culture, and ideas. When Matt Welch lights up the small screen on Fox Business four nights a week, when I go on shows like Real Time with Bill Maher, and when Jacob Sullum bears the withering scorn of Bill O'Reilly (watch this classic clip), we're standing up for a radical libertarian perspective that deserves a bigger and bigger audience (and is getting one; see reason number 1).
The same thing happens when we either host debates or show up in the pages of publications ranging from Forbes to The Daily Beast to The Week, or on NPR and PBS (where I had the privilege of debating Bill Moyers and Lawrence Lessig about Citizens United).
So if you think what we're doing matters - or entertains or edifies - please make a donation today.
And make sure to catch Matt Welch and me doing a Reddit Ask Me Anything tomorrow, starting at noon ET. It's your chance to, well, ask us anything.