A.M. Links: Protest Over Eric Garner Grand Jury Decision, More Rain in California, 76ers Snap 17-Game Losing Streak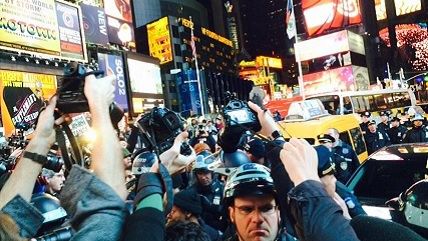 Twitter

Protests erupted in New York City and around the country after a grand jury declined to indict the cop who placed Eric Garner in a fatal chokehold this summer. Garner's family, meanwhile, rejected an apology from the officer, Daniel Pantaleo, saying the time to show remorse and caring would have been as Garner yelled that he couldn't breathe.

Drought-stricken California will get a third day of rain.
Police and militants in the Chechen capital of Grozny exchanged gunfire; at least three traffic cops and six militants were killed.
A bomb blast in Mogadishu hit a United Nations convoy, killing at least three.
Two people were fatally shot by police in South Africa who used live ammunition for crowd control after a truck carrying rice and sugar lost its cargo.
The Philadelphia 76ers snapped a record-breaking 17 game losing streak to start the season by winning their first game.
Reason is your voice in debates about politics, culture, and ideas. Our annual Webathon is underway and your tax-deductible gift will help us fight against big government, crony capitalism, the drug war, and so much more. For details on giving levels and swag, go here now.