Noah Berlatsky on the U.K.'s Crazy Copyright Scheme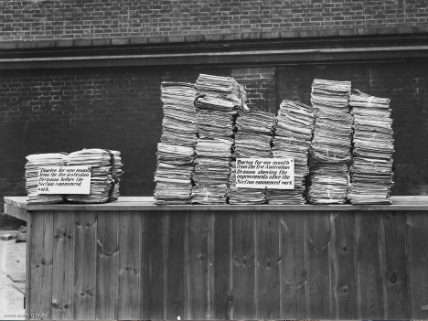 This year is the centenary of the beginning of World War I. Visitors to the Imperial War Museum, the National Library of Scotland, the University of Leeds, and other sites have the chance to view special exhibitions associated with the historical event.
In each of the displays, several cases are empty. The reason? Museums and libraries wanted to showcase letters from soldiers, but these letters were never published. As a result, according to U.K. copyright law, they will not be in the public domain until 2039, writes Noah Berlatsky.
The empty display cases are part of a Free Our History campaign, organized by the Chartered Institute of Library and Information Professionals [cilip], which is attempting to alter laws regarding unpublished works in the U.K. According to cilip, more than half the archival documents in the U.K. are copyrighted by persons who can't be identified, rendering them "orphan" works. The Imperial War Museum has 1.75 million such documents.
It may seem ridiculous that 100-year-old letters cannot be displayed by public institutions in Britain for another quarter century, but the problem goes beyond that, according to Berlatsky.