Our Boston TSA Heroes: 'Even if Some of These Items, Such as Toy Guns, Weren't Deemed Dangerous…'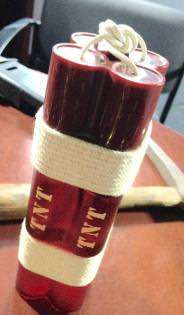 It's amusing/sad to watch CBS Boston's effort to portray local airport security antics as important and worthwhile. The best the station can really offer after initial "Weapons on Planes" bravado is that "even if some of these items, such as toy guns, weren't deemed dangerous, they do slow up the lines at the checkpoints significantly," which is why it's important to "get the word out before the busy holiday travel season begins."
Obviously, by bringing a perfectly safe item—such as the confiscated faux-TNT packaged cologne pictured to the right—in your carry-on bag, you are at fault for holding up security checkpoint lines when Transportation Security Administration (TSA) officials mistakenly flag it as dangerous.
Reporter Christina Hager "got an exclusive look at some of the items TSA agents have confiscated" from Boston's Logan International Airport, which include a lipstick tube that conceals a knife blade, a knife that folds up to fit into a wallet, and a fake iPhone with a slide-out knife—all items perfectly plausible for people to keep on them (in general) for self-defense. Also confiscated: a flask in the shape of a gun. Total number of firearms found in carry-ons in the past year: six.
Even the TSA agent interviewed isn't convinced these items were intended for on-flight harm. "There's not much that surprises me anymore," says TSA spokesman Michael McCarthy. "It's mostly just passengers who may not have been aware of what's allowed in their luggage."