Judge Blocks Maine Ebola Quarantine, Feds Announce Lots of Climate Change Plans, Google Fined Over Boobs: P.M. Links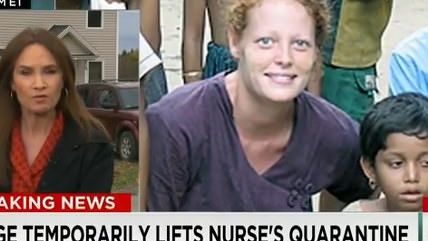 CNN

A judge has ruled that Maine health officials cannot quarantine nurse Kaci Hickox over fears she may have Ebola because she has no symptoms. He ruled that the state can continue to monitor her, and she must coordinate any travel with state officials.

Eric Frein, the man accused of ambushing Pennsylvania state troopers (killing one) and fleeing into the wilderness for 48 days before getting caught last night, has formally been charged with murder.
Friday's news dump from the Obama administration includes thousands of pages describing what various federal agencies will be doing to combat climate change. No doubt these potentially costly proposals will get lots of attention and analysis the weekend before midterm elections and amid all this Ebola-mania. (Yes, that was sarcasm.)
A judge in Virginia ruled that criminal defendants can be forced to cooperate with police if they use fingerprint locking for their smart phones and open them up, because fingerprints are more like keys than like passcodes.
The family of a man who died in Rikers Island prison, nearly cooked to death after being left in an extremely overheated prison cell, have been awarded $2.25 million from New York City in a settlement.
Google has been fined $2,250 for a street view image in Canada that showed a woman's cleavage.
Follow us on Facebook and Twitter, and don't forget to sign up for Reason's daily updates for more content.