Poll: Americans Not Happy With Obama, Ebola Gets Confusing, U.S. Ranks 20 on Gender Gap Index: P.M. Links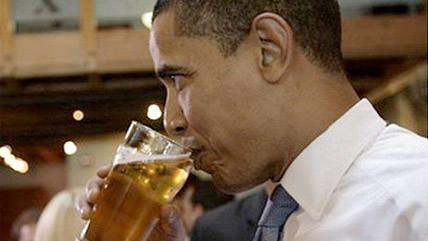 cizauskas-CC-BY-NC-SA

Most Americans think the U.S. is headed in the wrong direction and are not happy with Barack Obama's job as president, according to a new poll. Obama has been mostly staying out of the public eye during the midterm election, but he's in Wisconsin today trying to help his party oust Republican Gov. Scott Walker. Meanwhile, Walker's grappling with New Jersey Gov. Chris Christie (R).

Try to keep up, or you might die: The Center for Disease Control released new Ebola guidelines about avoiding large groups and commercial travel, the U.S. military is isolating soldiers sent to Africa even if they exhibit no signs of the virus, but Obama is criticizing states for doing so, and Press Secretary Josh Earnest says blame James Madison and states' rights. The other Dallas nurse who caught Ebola is clear and has been released, so that's good.
The U.S. ranks #20 (three spots better than last year) on the World Economic Forum's Gender Gap Index.
A PBS documentary that airs today argues the Obama administration "did almost nothing" when it had early intelligence reports about ISIS. Now, Iraqi Kurds are marching into Syria.
Russia announced that it will recognize the outcome of voting (spoiler: It's rigged and Kremlin puppets win) next week in the territories it's occupying in Ukraine. Rep. John Boehner (R-Ohio) says Obama's soft, and that Bush would've "punched [Putin] in the nose" if he had tried pulling any of that crap on his watch. Well, ya know, except for that whole Georgia incident…
Kim Jong-un's six-week absence was due to a cyst-removal surgery, according to South Korean intelligence.
Follow Reason and Reason 24/7 on Twitter, and like us on Facebook. You can also get the top stories mailed to you—sign up here.