Bow Down to Your Ebola Czar, Get Gay-Married in Arizona, and Buy More Things with Your IPhone: P.M. Links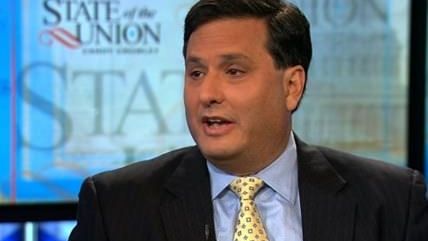 CNN

Ron Klain, the man who once failed to contain the spread of Vice President Joe Biden and former Vice President Al Gore, is going to be put in charge of containing the spread of the Ebola virus.

A judge has struck down Arizona's ban on gay marriage recognition and the state's attorney general says he's not going to fight it.
Nigeria has reportedly declared a ceasefire with the Boko Haram terrorist group. But previous reports of ceasefires have proven to be untrue, so maybe not. Releasing all those kidnapped schoolgirls (remember them?) may be part of the deal.
Because Gina Raimondo, Democratic candidate for governor of Rhode Island, pushed through huge reforms of the state's public employee pensions, unions are throwing support behind the Republican opponents. Her lieutenant governor pick, Dan McKee, is also a supporter of charter schools.
You'll be able to spend your hard-earned bucks on all sorts of regrettable purchases at hundreds of thousands of stores beginning Monday with just your iPhone as the new Apple Pay service launches.
Amazon launched its grocery delivery service in New York City today, but only to the hipsters in Brooklyn. They must have given up on the beehives and rooftop veggie gardens.
Follow us on Facebook and Twitter, and don't forget to sign up for Reason's daily updates for more content.