A.M. Links: Obama Open to Ebola Czar But Not Travel Ban, FBI Director Wants to Ban Cellphone Encryption, Royals-Giants World Series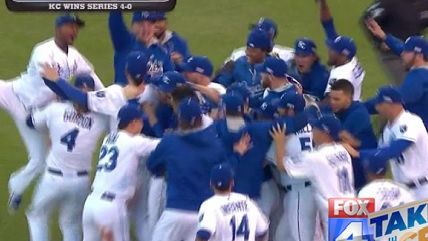 Fox 4 News

President Obama says he's open to an Ebola czar but not a travel ban. The Dallas nurse who contracted Ebola from a patient she was treating arrived in Maryland for treatment, while a Dallas lab worker on a cruise ship off the coast of Belize has been quarantined because he handled the Ebola patient's specimen.

FBI Director James Comey is worried that Apple and Google allow users to encrypt their phone and called on Congress to pass a law to stop them from doing that.
The U.S. and Iran remain cautiously optimistic about ongoing nuclear talks.
A poor economy and a plunging ruble don't seem to be having much of an effect on the popularity Vladimir Putin enjoys in Russia.
Venezuela, Spain, New Zealand, Malaysia, and Angola were elected to the United Nations Security Council as non-permanent members.
The Kansas City Royals completed their sweep of the Baltimore Orioles and will advance to the World Series to face the San Francisco Giants, who are making their third appearance in the last five years.
Follow Reason and Reason 24/7 on Twitter, and like us on Facebook. You can also get the top stories mailed to you—sign up here.