Rand Paul Goes to Ferguson, Gitmo Closure Rumor Sparks Freak-Out, U.S. Troops to Built Hospital to Fight Ebola: P.M. Links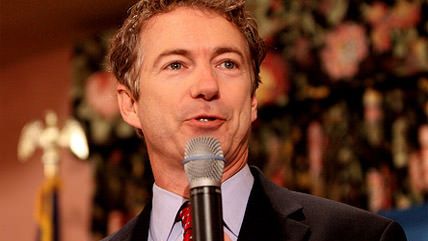 Gage Skidmore

Sen. Rand Paul (R-Ky.) met with civil rights leaders in Ferguson, Missouri today. He's the first presidential hopeful to do so.

Talk about bipartisanism. A Wall Street Journal report cited an unnamed official claiming President Barack Obama wants to shut down Guantanamo Bay, so Sen. Pat Roberts (R-Kansas) swore he'd "shut down the Senate" if the president tried. Don't worry, there's no way we're closing the prison, the White House responded.
The Defense Department is allowed to shift $750 million in war funds to fighting Ebola, since Sen. James Inhofe (R-Okla.) of the Senate Armed Services Committee caved on his objections to the plan. U.S. troops in Liberia are learning how to build hospitals, because that makes more sense than hiring people who already know how to build hospitals. The U.N. says the number of Ebola cases is doubling roughly every three or four weeks, and the death toll is over 4,000 according to the World Health Organization.
The U.N. is predicting a massacre if ISIS takes the Syrian city of Kobani. France says airstrikes aren't enough to stop ISIS's drive toward the Turkish border, so it's proposing a buffer zone. The U.S. "is not considering that option," and isn't getting much cooperation from Turkey, which doesn't want use its own military against the Islamic State, but has now agreed to train and equip moderate Syrian rebels to fight the terrorist group.
The Army will not release its investigation into Sgt. Bowe Bergdahl's disappearance and capture while in Afghanistan.
Suddenly South Dakota's Senate race is up in the air and could decide the majority party.
No charges will be filed in connection to the Alaskan brawl that involved the Palin family. The police report has been released, and Sarah Palin's daughter claims she was called a "slut" and a "bitch" during the fight last month. Funny, I don't hear any complaints about slut-shaming or the war on women.
Forget what? Google has removed 170,000 website links from search results, the company noted in a transparency report today.
Follow Reason and Reason 24/7 on Twitter, and like us on Facebook. You can also get the top stories mailed to you—sign up here.