Obama Wants to Enroll Six Million Preschoolers, Bush Says Be Patient About Iraq War, AHHH EBOLA!: P.M. Links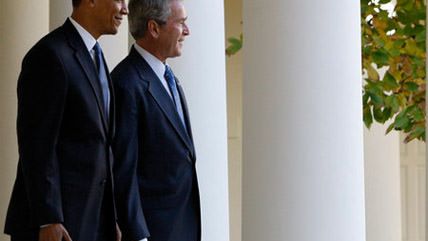 White House

Who's paying for it? "Today, I'll set a new goal – by the end of this decade, let's enroll six million children in high-quality preschool," President Barack Obama said, oddly enough, during a speech on the economy. All that talk made the president hungry, so he went to a $50,000-per-plate fundraiser that was free of the pesky press.

Obama's got a friend in Iraq War III. Former President George W. Bush is by his side and says Americans just need to be patient about nation-building.
The family of Thomas Eric Duncan, the Ebola patient in Dallas, has been quarantined. As if Duncan didn't have enough problems, Liberia is prosecuting him for lying about his contact with other patients before he boarded a plane to the U.S. 100 people in Texas are now being monitored for the virus.
Hong Kong's leader refuses to step down, but offered to have talks with the pro-democracy protesters. China warns that vocal supporters of protesters, like the U.S., better stay out of it.
Rep. Michelle Bachmann (R-Minn.) says that upon losing her congressional seat she will transform into the "anti-Hillary." If that means she'll never be a serious presidential candidate, it's cold comfort.
Georgia Tech just became the first university to accept Bitcoin for on-campus purchases.
This satirical anti-immigration mural by Banksy was removed, because local authorities can't read between the lines.
Follow Reason and Reason 24/7 on Twitter, and like us on Facebook. You can also get the top stories mailed to you—sign up here.