Webcam Girl Sasha Pain Raising Awareness, Funds for Ferguson Protesters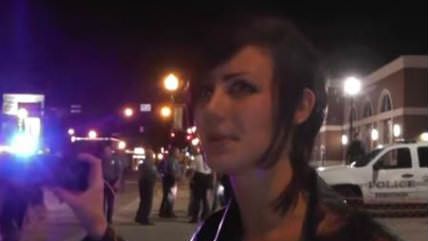 (Screenshot/Riverfront Times)
Webcam performer Sasha Pain is putting her sexual prowess and social-media popularity to use in support of Ferguson, Missouri, protesters. Pain, her boyfriend, and video-journalist Jessica Hollie traveled from San Francisco to Ferguson last weekend with the goal of filming what's happening there and sharing it with her significant fan base and friends back home whom she says haven't paid attention to Michael Brown's shooting and its aftermath.
"I want people who follow me to have to see it," Pain told St. Louis alt-weekly Riverfront Times.
"This isn't something that happened to me or in my town, but it's something that happened to a citizen of my country and a son to somebody. That's enough for me to be here. This is what people need to focus on."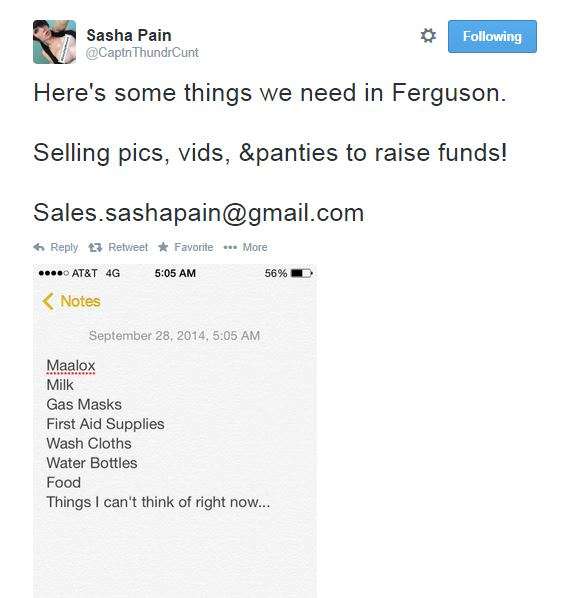 Pain and crew arrived in Ferguson Saturday night, where they found fellow protesters welcoming and local police officers acting as we've come to expect from them:
"The cops keep fucking pulling up bullshit laws and telling people they can't do things that they should legally be able to do. (The protesters are) not letting it get them down. They're working around it, and they're becoming more creative and resilient. It's amazing."
While in Missouri, Pain said she plans to continue making sexy webcam videos (update: Pain would like to stress that she is not "selling videos that contain heterosexual sex" and "custom videos" is a better term), with all proceeds beyond her and her friends' basic living expenses going to help supply protesters with things like food, first-aid supplies and gas masks. The trio doesn't plan to partake in protests because "that's not my place," Pain told the Times.
"But I will do what I can to make it less painful, more safe and easier on them because that's what I'm here for."
See Jessica Hollie's Ferguson videos here, Pain's Ferguson videos here, and support a good cause here (NSFW).