A.M. Links: Rebel Groups Claim Civilian Casualties in U.S. Airstrikes in Syria, Obama Criticized for Salute of Marine, Romney Could Run for President Again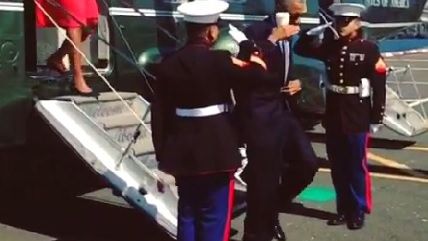 Instagram/White House

Rebel groups claim that U.S. airstrikes against ISIS targets in Syria also hit civilians. The Pentagon, meanwhile, says airstrikes didn't just target ISIS but also the Khorasan group, reportedly an Al-Qaeda offshoot interested in orchestrating the next 9/11.

People with nothing better to mess themselves over are upset at the way President Obama held a coffee cup while saluting a Marine.
According to his wife, Mitt Romney could run for president again, especially if Jeb Bush doesn't.
The mayor of Boston will appoint a chief of arts and culture.
The U.S. condemned a life sentence imposed by China on an ethnic Uighur scholar and human rights activist.
India's first probe to Mars, the Mars Orbiter Mission or MOM, is arriving at the red planet.
Follow Reason and Reason 24/7 on Twitter, and like us on Facebook. You can also get the top stories mailed to you—sign up here.