France Bombs ISIS, Scots Say 'No' to Independence, 'It's On Us' Says White House Anti-Rape Campaign: A.M. Links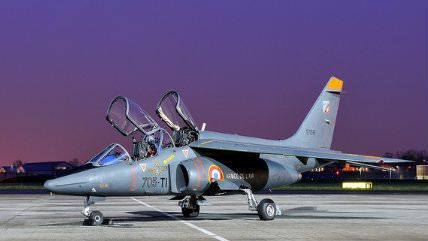 Jerry Gunner/Flickr

The French have officially gotten in on bombing ISIS (or "Daesh", as they like to say). A statement from President François Hollande's office this morning says the target, an ISIS logistics center in northeast Iraq, "was hit and entirely destroyed. Other operations will be carried out in the days to come."

Voters in Scotland yesterday rejected a referendum to break free from Britain, with Friday-morning results showing 54 percent against the plan. (Read Reason's Tom Clougherty on why Scottish Independence would have been awesome here.)
The U.S. Senate voted 78-22 in favor of President Obama's plan to train and equip Syrian rebels for war with ISIS. The bill, sent to the White House, grants this authority through December 11— allowing legislators to revisit this whole messy war issue after the midterm elections.
Are patent law and a dysfunctional U.S. Congress killing private space research?
Following a nine-month investigation, the Justice Department has cleared New Jersey Gov. Chris Christie of involvement with "Bridgegate".
Nearly two-thirds of likely voters in Washington, D.C. said they'll support marijuana legalization on the November ballot.
This afternoon, President Obama is slated to announce "It's On Us," a new public awareness campaign about sexual assault on college campuses.
Follow Reason and Reason 24/7 on Twitter, and like us on Facebook. You can also get the top stories mailed to you—sign up here.