A.M. Links: Congress Votes to Arm Syrian Rebels, Iran Skeptical of US ISIS Plan, Joe Biden in Iowa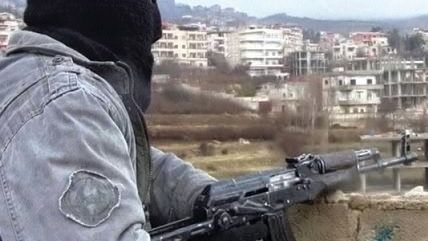 FreedomHouse

The House of Representatives voted 273 to 156 in favor of arming rebels in Syria, as part of President Obama's proposed efforts against the Islamic State in Iraq and Syria (ISIS), once just another rebel group in Syria but now a self-proclaimed caliphate. The foreign minister of Iran, meanwhile, says air strikes alone won't defeat ISIS, while Iran's president, Hassan Rouhani, called the American-led coalition "ridiculous." Police in Australia say they foiled a plot by ISIS supporters to behead people in Australia and video tape the acts.

Even if it were faced with a search warrant, Apple says encryption in its latest mobile operating system, iOS 8, won't allow the company to bypass users' passwords.
Police in Phoenix arrested Arizona Cardinals running back Jonathan Dwyer on aggravated assault charges connected to two alleged domestic altercations, involving a 27-year-old woman and an 18-month-old child.
Joe Biden becomes at least the third potential Democrat presidential candidate to visit Iowa this month.
Toronto Mayor Rob Ford has been diagnosed with cancer. Nothing funny about that.
A non-binding decision by the International Whaling Commission to extend a moratorium on scientific whaling by Japan won't affect the country's 2015 culling plans.
Follow Reason and Reason 24/7 on Twitter, and like us on Facebook. You can also get the top stories mailed to you—sign up here.