Iraq Prime Minister 'Won't Allow' Foreign Troops, Biden Apologizes for Anti-Semitic Slur, Peterson Benched: P.M. Links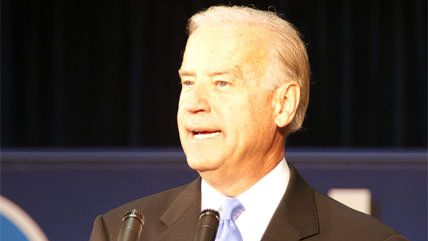 Creative Commons Attribution-ShareAlike 2.0

Foreign troops are "out of the question. Not only is it not necessary, we don't want them. We won't allow them," says Iraq's new prime minister Haider al-Abadi. Uh, he may want to tell that to the Obama administration that. Also, a House vote is set to take place today on Obama's plan to arm and train Syrian rebels to fight ISIS. And, a New York man was arrested for allegedly trying to provide material support for the Islamic State terror group.

Vice President Joe Biden apologized to Jewish groups for describing some bankers as "Shylocks." Apparently, he referred to China as "the Orient" hours after the first gaffe.
Former Press Secretary Jay Carney says about his new CNN gig, "It would be disingenuous to suddenly pretend that I wasn't loyal to one side." Well, at least he's honest about that.
Scotland votes on independence tomorrow, and it's going to be very close.
According to the QS World University rankings, MIT is number one. Five other American universities are also in the top 10. USA! USA! USA!
Regarding star player Adrian Peterson who is facing child abuse charges, the owner of the Minnesota Vikings said "we made a mistake" by reinstating him, so he's on the exempt list now.
Follow Reason and Reason 24/7 on Twitter, and like us on Facebook. You can also get the top stories mailed to you—sign up here.