It Begins: U.S. Action Against ISIS Lets Regional Powers Off the Hook to Do Anything About Their Own Security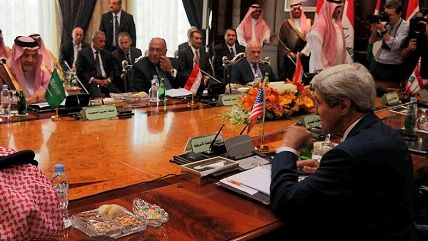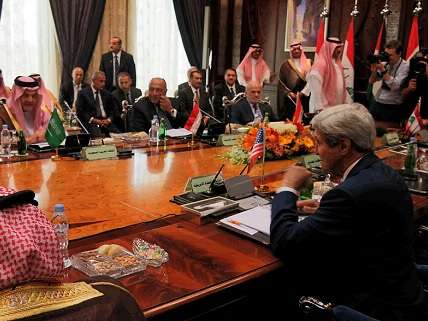 The Islamic State in Iraq and al-Sham (ISIS) controls large swaths of territory in Iraq and Syria and aims to control even more of the Levant (al-Sham: ranging from Turkey to the Sinai). It threatens the security of every government in the region. It has no allies and respects no sovereignty. The leaders of ISIS, in fact, declared that their organization was a caliphate, with jurisdiction over Muslims everywhere in the world. So while the U.S. government acknowledges ISIS does not pose a threat to the homeland, the terror group certainly poses a threat to homelands in the Middle East.
Yet yesterday's announcement by President Obama of a not-war being launched agains ISIS in both Iraq and Syria has given regional Arab powers the room not to do anything. Secretary of State John Kerry was in the region to drum up support for planned U.S. military actions, appearing at a summit of Arab foreign ministers in Saudi Arabia. Here's what happened, according to The New York Times:
None of the Arab participants said precisely what they would do, and it remained unclear whether any would join the United States in mounting the airstrikes.

Turkey also took part in the meetings here, but it did not sign the communique. A senior State Department official sought to minimize the significance of that development, saying the United States would continue to consult with Turkish officials on how to respond to the threat posed by ISIS, which has captured 49 Turkish diplomats in Iraq and held them hostage.
Countries like Turkey and Saudi Arabia have given varying degrees of support to the virulent strains of Islam that feed extremists like those in ISIS. Yet ISIS is hardly a puppet. Whether they decide to move north to Turkey or south to Saudi Arabia will be a decision over which those two countries will likely have no influence. But why bother treating ISIS like a national security threat when the United States is doing it for you?
Saudi Arabia, Turkey, other nations in the region, Arab and otherwise, are all threatened by ISIS in a way the United States isn't, and in a way I think their leaders intrinsically understand they're not being threatened by other countries in the region despite the official propagandas. Though the U.S. is the worldwide leader in military spending, these countries have spent decades building their militaries. They ought to make the decision to use them or not, to work with other countries in the region or not, and not have those decisions deferred by U.S. action from afar.