An Endurance Test that Puzzles and Inspires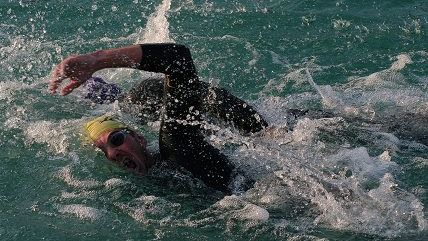 (Moritz Kosinsky / Wikimedia Commons)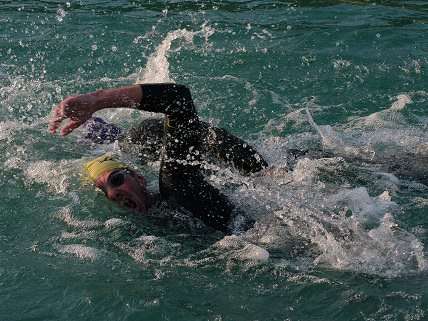 MADISON, Wisconsin — A glorious September day is breaking over scenic Lake Monona, but nearly 2,500 people are about to have perhaps the most miserable experience of their lives.
You may not feel sorry for them, since the entrants in the Ironman Wisconsin are all volunteers. Actually, "volunteer" is an understatement. Each of them has expended huge sums of time and money—and even bigger quantities of sweat—for the privilege of putting themselves through hell.
It's an odd place to do it. Madison is as close as human beings get to paradise in this world, being blessed with three of the critical requirements for happiness: used bookstores, ready access to nature, and college football. The Ironman participants, by contrast, seek out three bottomless sources of suffering.
The athletes waiting to plunge into the chilly water at 7 a.m. will swim 2.4 miles around the lake, strip off their wetsuits, don shoes and helmets, and mount bicycles to pedal 112 miles through the Wisconsin countryside. Then they'll kick back with an ice-cold Leinenkugel.
Just kidding. Then they'll run a marathon, which if you have forgotten is 26.2 miles. After that, I assume they will retire to their hotel rooms and stick needles into their eyeballs, to make sure no pain receptors go to waste.
The average finisher needs more than 12 hours to navigate the course. I consider 12 hours of —driving—to be a grueling endurance test. I am here because the apple falls 140.6 miles from the tree. My elder son, Ross, is one of those people waiting for this exercise in self-torture, not for his first time.
I would like to say that he inherited his athletic fortitude from me, but I must admit, that time I did a 5K I found it really exhausting. I alternate between feeling paternal pride and wondering how I could have him involuntarily committed. It is puzzling to discover that some people like pain better than most of us like pleasure.
My first awareness of this strange event came in 1982, thanks to TV news coverage of the finish of the Ironman Hawaii, when one Julie Moss staggered and collapsed repeatedly as she approached the finish line, looking as though she would die in the process. She did finish and didn't die—and did more Ironman races.
Back then, I would have guessed they were as likely to catch on as oral surgery without anesthesia. In fact, there are now 35 Ironman races a year (not counting the Ironman 70.3 events, which are half the distance) around the world, attracting 85,000 participants.
The phenomenon makes for a diverting spectacle. Most of the athletes have sinewy bodies, but a few look as though they trained by sitting on a couch and eating donuts. A few sprint to the finish line, and some walk. Some arrive at the end smiling, most grimacing and a few weeping.
Many have supporters on hand. A few boast groups as big as a family reunion, dressed in matching T-shirts, waving signs and ringing cowbells.
Ross' friends Chip and Julian Harkleroad will not find their father, Lee, loyally cheering them along the route—because he'll be following them. At age 60, the Lake Bluff, Ill., resident and cancer survivor has completed 10 Ironman races, including four in 2014, but he has the good sense to take a break before his next one. It's not until Sept. 27.
Unlike in big-city marathons, the crowds for this race are small enough to make it easy to see the competitors—or even to jump out on the course, high-five your favorite ones and bellow encouragement as they go by. Don't ask how I know this.
But the question remains why all these people insist on putting themselves through such a pitiless ordeal, which is merely the endpoint of months of exhausting preparation. Their rewards are a medal and an amplified announcement as each one crosses the finish line: "You're an Ironman!"
They get no money, little recognition, and a lot of sore muscles and joints. They do it just for the reward of doing something that pushes the limit of their capacities—and then breaks through. There is something inspiring in the effort.
Still, if I were asked to advise them, I would suggest they rethink their priorities. I would tell them that life is short, that moderation in all things is wise, that they need to achieve a sensible balance in…
Oh, like hell I would.