Obama Takes Credit for Ukraine Ceasefire, WHO Says Use Survivors' Blood to Fight Ebola, Uber Sponsoring Police Militarization Conference: P.M. Links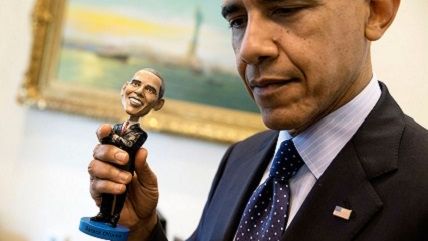 White House

Ukraine and Russian-backed troops agreed to a ceasefire today, and President Obama took a lot of credit: "The only reason that we're seeing the ceasefire at this moment is because of both the sanctions that have already been applied and the threat of further sanctions" against Russia. NATO approved a new plan for preventing future Russian aggression.

Commandos allege that the CIA ordered them to "stand down" during the 2012 Benghazi attack, but top Democrats in the House Intelligence Committee say there's "no evidence" to back up that claim.
"I am going to be making a decision … probably after the first of the year about whether I'm going to run again or not," says Hillary Clinton. I'm holding breath waiting, so hopefully I'll be passed out when she makes the announcement.
Democratic National Chair Debbie Wasserman Schultz yesterday compared the policies of Gov. Scott Walker (R-Wis.) to domestic violence, saying that he is "grabbing [women] by the hair and pulling us back." Today she apologized for the statement… sorta.
Missing the expected mark of about 212,000 jobs, the U.S. economy added only 142,000 jobs in August. The fact that 17,000 fast food workers went on strike certainly didn't help.
The Islamic State (a.k.a. ISIL or ISIS) is rapidly "extending its influence to Egypt" according to an exclusive Reuters report.
The World Health Organization suggests that to fight Ebola, doctors treat patients with the blood of survivors. Sounds like a concept for an awesome metal album.
A plane flying from New York to Florida veered off course and became unresponsive, prompting the government to track it with F-15 jets. The plane eventually crashed near Jamaica.
Uber is sponsoring a police militarization conference. Why, Uber? Why?!
Follow Reason and Reason 24/7 on Twitter, and like us on Facebook. You can also get the top stories mailed to you—sign up here.