Pa. Teachers Rehired After Admitting to Having Sex in School, Accusations of Harrasment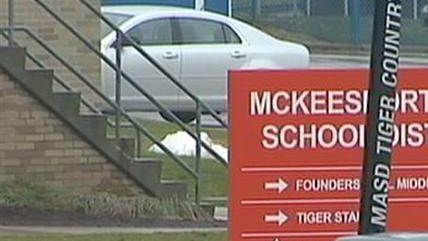 In McKeesport, Pennsylvania, Angela DiBattista, a fourth grade teacher who lost her job in 2011 after admitting to having sexual relations in the early 2000s with another fourth grade teacher, Patrick Collins, also under investigation at the time, was reinstated for the school year that starts next week. She was fired being charged with "immorality" after the two admitted to having sex between six and eight times at the school after hours.
Collins was fired in 2005 on charges of harassment of DiBattista and violating school policy, but was "absolved," reinstated and able to retire in 2006. DiBattista's attorneys maintained she had been given immunity for testifying against Collins, something a court agreed with. An appeals court then overturned her firing.
Two state courts ruled that DiBattista was fired without cause for admitting she had sex with another teacher inside a classroom.

Commonwealth Court said testimony from the district and DiBattista's witnesses at a 2010 disciplinary hearing supported the conclusion that DiBattista was promised immunity for admitting her actions with Patrick Collins, a fellow teacher and a former McKeesport Area Education Association president.

Judge Renee Cohn Jubelirer wrote, "The parties mutually intended that if (DiBattista) agreed to testify she would have no concern or fear that any district action would be brought against her as a result of such cooperation."

State Supreme Court ruled in March to deny the district's appeal to reverse a 15-page decision from Commonwealth Court.
Yesterday Robby Soave broke down how the federal government was bullying colleges into policing their students' sexual activity by lowering the standard of evidence required for disciplinary action up to expulsion, effectively denied due process.
In McKeesport, on the other hand, teachers who admit to having sex on school property (not part of their job, probably even in some teachers handbooks as a "don't"), and one, a union leader, accused of harassing a coworker (both had spouses), can spend months in court and get their jobs back (so having sex on school property, not a firable offense—remember only DiBattista was found to have been offered immunity, to testify against a teacher she accused of harassing her). Yet employment as a teacher ought to be considered a privilege, and certainly a position more privileged than students trying to purchase (by cash or credit) a higher education.
Meanwhile on Staten Island, school administrators showed their ability to avoid having to take responsibility for making decisions by taking a "by the book" zero tolerance-like approach. A New Dorp High School culinary arts teacher was "reprimanded" for allowing three students to try a half-teaspoon of cinnamon during a class about spice. An anonymous tipster complained the teacher allowed students to perform the "cinnamon challenge," even though none of the students involved reported any illness, they consumed less cinnamon than the challenge and had water to wash the drying taste down with. Is it too much to ask those educated and paid to administer education to use their informed discretion and purported expertise to make common sense decisions, and policies, rather than creating a system of reprimands and firings and rehirings that they can claim to be running on autopilot?