Neighbor Narcs on Florida Boy's Lemonade Stand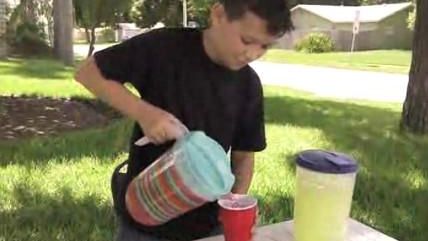 (Tampa Bay Times video screenshot)
Tampa Bay Times video screenshot

"It's all about profit."
That's T.J. Guerrero, a 12-year-old who sells strawberry lemonade and cookies on the corner of Patricia Avenue and San Salvador Drive in Dunedin, Florida, from 3 to 7 p.m. most days. He scoped out the corner after trying several other locations—market research is important for any entrepreneur—and got permission from a neighbor to sell on his front lawn. Other neighbors have even offered their driveways for customer parking. He sees from 10 to 30 customers a day, and charges $1 a cup.
But none of this diligence impresses 61-year-old Doug Wilkey, who lives on the corner and thinks the boy is a nuisance worthy of government intervention. The Tampa Bay Times reports:
According to Dunedin records, Wilkey contacted city commissioners in May 2013 and followed up in October, then again in March and June this year….

"The city could possibly face repercussion in the event someone became ill from spoiled/contaminated food or drink sales," Wilkey wrote in one email.

"If this were a once a year event by a couple kids to earn a little money for a holiday or something, I would not have a problem with it," he said in another. "I am very worried about the value of my home, which is why I built in a residential area, not a business area."

An increasingly frustrated Wilkey, who declined to speak with the Tampa Bay Times, wrote this summer that the stand was back "AGAIN!!!!!!!!!!!!"

A Pinellas County sheriff's community police officer has been out at least twice in an attempt to defuse the conflict.
Wilkey says Guerrero's friends hang out near his stand and make noise. He has also complained about trash. I haven't had the chance to hit up the stand and see for myself—though local Reason readers should go grab a glass—but those sure sound like complaints that would be better dealt with man-to-boy, rather than man-to-Leviathan-to-boy.
Three cheers for the local Florida authorities, though. Sheriff's deputies have declined to shut the boy down, unlike their brethren in Madison County, Illinois; Portland, Oregon; Toronto, Canada; Holland, Michigan; and Washington, D.C.