A.M. Links: More Unrest in Ferguson, Rick Perry Indicted for Trying to Force DUI D.A. to Resign, Facebook Testing "Satire" Tag for Fake News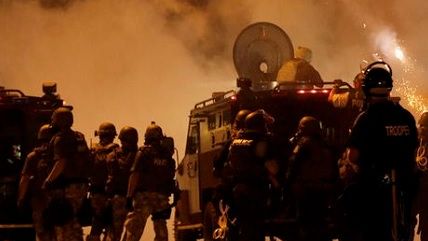 Daily Sabah

Yesterday was the ninth night of protests in Ferguson. Missouri's Democrat Gov. Jay Nixon, who declared a state of emergency in Ferguson and ordered a midnight to 5 a.m. curfew on Saturday, has now ordered the National Guard in. Nixon blamed the police chief in Ferguson for provoking this weekend's violence by releasing surveillance video purporting to show Michael Brown, who was shot by cops last Saturday, robbing a corner store a few minutes earlier. Results of the autopsy reveal Brown was shot at least six times.

Texas Gov. Rick Perry was indicted for "coercion" and "abuse of power" for using his power to try to force a District Attorney responsible for public integrity accused of drinking (heavily) and driving to resign. The only reason the indictment has any traction is because Perry is a Republican and the D.A., Rosemary Lehmberg, is a Democrat. New York's Jonathan Chait, no fan of Perry, called the indictment "unbelievably ridiculous."
The California Supreme Court ruled that a suspect's silence before pleading the Fifth can be used to demonstrate guilt.
Kurdish and Iraqi troops have retaken the Islamic State-controlled dam in Mosul, with help from U.S. air strikes, according to an Iraqi military spokesperson.
Wikileaks founder Julian Assange said it was his understanding he would be leaving the Ecuadorian Embassy in London, where he has stayed the last two years to avoid arrest in Great Britain and extradition to Sweden for questioning.
The social networking website Facebook is testing a "satire" tag for fake news.
Follow Reason and Reason 24/7 on Twitter, and like us on Facebook. You can also get the top stories mailed to you—sign up here.