A.M. Links: Incumbents Win on Primary Tuesday, John Kerry Calls For "Bigger" Approach During Temporary Gaza Ceasefire, San Antonio Spurs Hire Becky Hammon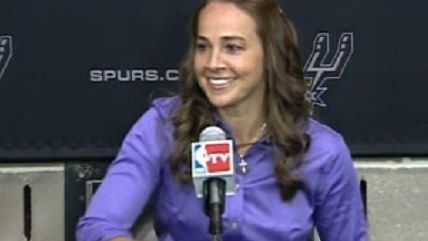 NBA

Incumbent Sen. Pat Roberts defeated a Tea Party challenger in the Republican primary in Kansas. Reps. Tim Huelskamp and Mike Pompeo, who won as Tea Party candidates in 2010, survived "anti-Washington" challenges. So did Rep. Justin Amash in Michigan, handily, while an anti-surveillance amendment in Missouri passed overwhelmingly.

Secretary of State John Kerry is using a 72-hour ceasefire between Israel and Hamas in Gaza to call for a "bigger, broader approach" to negotiations—Operation Protective Edge enters day 29.
British Airways is suspending flights to Liberia and Sierra Leone through August over Ebola fears. More than 1,600 cases have been reported in West Africa so far.
At least 589 people are dead and more than 2,400 injured after a magnitude 6.1 earthquake hit the Yunnan province in southern China.
Rupert Murdoch has withdrawn a bid by 21st Century Fox to take over Time Warner.
Apple and Samsung have agreed to end their patents fight in overseas courts, though they will continue to litigate in the United States.
The San Antonio Spurs hired WNBA player Becky Hammon as an assistant coach for next season. Meanwhile, Major League Baseball is expected to hire a new commissioner next week.
Follow Reason and Reason 24/7 on Twitter, and like us on Facebook. You can also get the top stories mailed to you—sign up here.