Lene Johansen on Eric Holder's International Targeting of 'Extremists'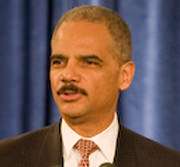 In a speech in Oslo, Norway, reports Lene Johansen, U.S. Attorney General Eric Holder said that he expects the number of Americans that travel to Syria to fight alongside Islamic extremists to grow. He also called for targeting westerners for surveillance and potential prosecution if they show signs of becoming radicalized.
American intelligence estimates that there are about 23,000 fighters in Syria. About 7,000 of these are foreign fighters. Of these, "dozens" come from America and about 50 come from Norway. One of them is ISIS-spokesperson Abu Safiyya, who recently taunted Obama to buy diapers in a propaganda video.
Holder spent the day reviewing the Norwegian action plan against radicalization with Norwegian Prime Minister Erna Solberg and Minister of Justice Anders Anundsen. He then called for other countries to enact a four-step multilateral plan to fight the "global crisis of influx of U.S.- and European-born violent extremists into Syria."
He also, writes Johansen, sought to ease concerns about the civil liberties consequences of his proposals throughout his speech.