Tonight on The Independents: War on Women, the Mess in Ukraine, Segway Mania, and the Giant Squirrel Following Hillary Clinton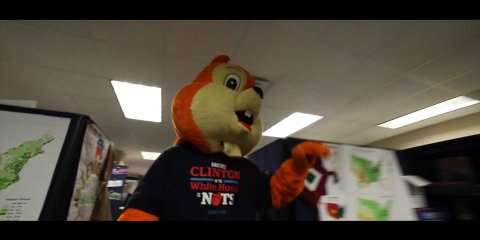 Matt Welch is out and Michael Moynihan is in—again!
Tonight's live-and-in-real-time episode of The Independents airs at 9 p.m. on the Fox Business Network with a repeat show at midnight.
Guy Benson and Rick Ungar will be on tonight's panel to talk about the never ending, possibly escalating, impossible-to-win War on Women, as well as how things are going with Israel, the government's weird blog on July 4th food, and the even odder appearance of a giant squirrel (okay, a person in a giant squirrel suit) following around Hillary Clinton.
Sean Kendall will appear to discuss the puppy-eyed sadness of shot dogs. Michael Weiss will stop by to discuss the latest on Ukraine. Paul Sherman will segue the discussion to the topic of Segways. And Michael Moynihan will close out the show with…well, you'll find out.
Tune in! Tonight! 9 p.m. ET on the Fox Business Network. Things will be happening (and you will not want to miss them)!