Official: IRS Didn't Follow Law, Shooting in Miami, Christie Faces Another Bridge Scandal: P.M. Links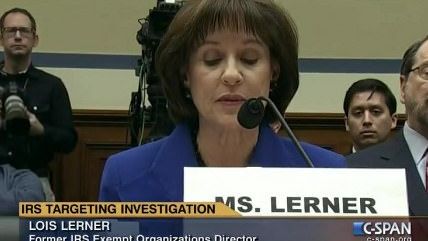 Credit: C-Span

A top official at the National Archives said the Internal Revenue Service (IRS) did not "follow the law" when it did not follow records-keeping procedures over the allegedly lost emails of former IRS official Lois Lerner.

Two were killed and seven were injured in a shooting at an apartment complex in the Miami area.
A United Methodist Church appeals panel overturned a decision to defrock a pastor who presided over the gay wedding of his son in Pennsylvania.
Adam Kuhn, chief of staff of GOP Ohio Rep. Steve Stivers, has resigned because a disgruntled former girlfriend (who is also a former porn star) tweeted a picture of Kuhn's penis.
New Jersey Gov. Chris Christie is facing a second bridge scandal, this one about possible violations with a $1.8 billion road repair agreement that may have diverted money from other projects.
A woman who had been sentenced to death while pregnant in Sudan for refusing to renounce her Christianity was freed from death row on Monday. Unfortunately, she was arrested again today while at an airport trying to leave the country. She gave birth to her baby while on death row.
In London, former newspaper editor Andy Coulson was found guilty of attempting to hack phones, while former News of the World editor Rebekah Brooks was cleared of all charges. The outrage over the revelation that journalists had hacked a missing teenager's phone resulted in the shuttering of the tabloid.
Follow us on Facebook and Twitter, and don't forget to sign up for Reason's daily updates for more content.