Jeffrey Rogers Hummel on the Panic of 1837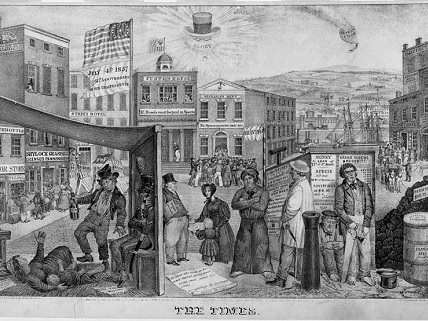 In May 1837, a major financial crisis engulfed America's approximately 800 banks, with all but six ceasing to redeem their banknotes and deposits for specie (gold or silver coins). This was followed by a short but sharp depression, constituting only the second manifestation of the modern business cycle in the country's history up to that point. The panic had been preceded by President Andrew Jackson's famous "Bank War," in which the Second Bank of the United States lost its exclusive charter from the national government. It was followed by vociferous political disputes about the monetary system, and by a prolonged price deflation that began in 1839 and didn't end until 1844.
Historians and economists continue to explore the panic's causes and consequences, a question made all the more relevant by the financial crisis of 2007-08. Now the University of New Hampshire historian Jessica M. Lepler has entered the fray with The Many Panics of 1837: People, Politics, and the Creation of a Transatlantic Financial Crisis, based on her award-winning Brandeis doctoral dissertation. Lepler's book, writes Jeffrey Rogers Hummel, is a social and business micro-history confined to the events leading up to and culminating in the bank suspension, a work of great detail and mixed quality.