Activists Lobbying for Federal Department of Photoshop Fails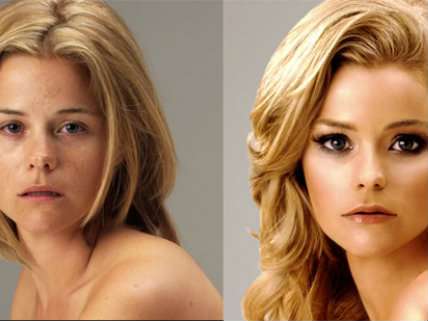 Today on Capitol Hill, Reps. Ileana Ros-Lehtinen (R-Florida) and Lois Capps (D-Calif.) met with advocates calling for greater federal oversight of Photoshop use. Led by ad-man turned advocate Seth Matlins, the group presented the Congresswomen with a 25,000-signature Change.org petition to pass an act regulating digitally altered images in advertising.
The "Truth in Advertising Act"—crafted by Matlins, the Eating Disorders Coalition, and Brave Girls Alliance—was introduced by Reps. Ros-Lehtinen and Capps in March. The legislation directs the Federal Trade Commission (FTC) to "develop a regulatory framework for ads that materially change the faces and bodies of the people in them, in order to reduce the damage this type of advertising does to our children."
According to a Change.org press release (emphasis mine), "excessive Photoshop use…contributes to one of the most significant public health crisis (sic) in the US, adding to emotional, mental and physical health consequences including eating disorders, which affects children and teen girls disproportionately." (For the record, "Photoshop," like Kleenex or Xerox before it, has become something of a catch-all term for any digital image alteration.) Matlins called Photoshopped ads "weapons of mass perfection." He insists that "we're not talking about regulating that (sic) making a blue sky bluer, or photoshopping away a fly-away hair. We're talking about ads that change the shape, size, proportion, color, and enhance or remove the features of the people in them."
That is the kind of thing people actually want our federal government determining. How many fly-away hairs can be disappeared before it's "seriously changing" an image? How many pixels can Miranda Kerr's waist be taken in by? How many pores can be smoothed off of Emma Stone's face without breaking the law?
It's ludicrous. And possibly unconstitutional. Advertising is, after all, protected First Amendment speech. Under a landmark Supreme Court case on advertising—Central Hudson Gas & Electric Corp. v. Public Service Commission of New York—the government can only restrict non-deceptive commercial speech when doing so "directly advances" a substantial state interest. I don't think the FTC has a substantial interest in becoming self-esteem-booster-in-chief.
Of course, the FTC can step in when advertising is deceptive or misleading. Matlin and his ilk are argue that Photoshopping does count as deception. It's a stretch. And let's not forget that advertising—especially the kind of high-fashion advertising frequently reliant on Photoshp—can also be considered artistic expression. A form of artistic expression, in fact, to which "seriously changing" images is central.
As an alum of women's blogs, I've witnessed and covered my fair share of "Photoshop fails"—waists smaller than a model's neck, crotches cropped to create extra thigh gap. But here's the thing: The blogosphere does a pretty good job of policing this on its own. After a few years of a familiar cycle—extreme digital hack job, blogger complaints, segment on Good Morning America, action from admaker, repeat—more and more companies have been backing off extreme Photoshopping. In other words: The media and the market have got this one, thanks.