Peter Suderman on South Park Edited, Again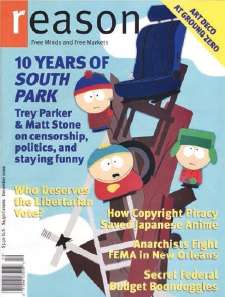 "We never set out to do a libertarian show," South Park co-creator Matt Stone told Reason's Nick Gillespie and Jesse Walker at a 2006 conference in Amsterdam. But intentionally or not, the show became known as much for its libertarian-leaning politics as for its outrageous humor. The interview with Stone and his co-creator Trey Parker was printed in the December 2006 issue of Reason as "South Park Libertarians." Much of the discussion centered on the show's multiple political controversies-particularly episodes that had been edited or pulled from air as a result of outside pressure.
This year, writes Reason Senior Editor Peter Suderman, Parker and Stone branched out into interactive media with a raunchy and well-reviewed video game, South Park: The Stick of Truth. And once again, the pair found their work edited so as not to cause offense.